Jacob Wehrle Memorial Scholarship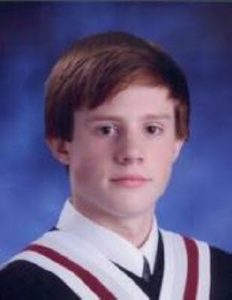 On November 13th, 2016, we unexpectedly lost someone that was loved by so many in his community. This young man's name was Jacob Wehrle. Jacob attended Preston High School, where he was one of the most well known people in the school. Not only did Jacob hang out with his 1994 born classmates, but he socialized with every friend group across all grades. On top of that, Jacob was a multi-sport, all-star athlete, winning a CWOSSA Championship and going to OFSAA with the boys soccer team for the first time in school history!
After high school, Jacob played for the Men's Soccer Team at Conestoga College, in which he played multiple seasons in the OCAA. In the classroom, Jacob was preparing to be an electrician! Jacob also played for a local men's soccer team, called Cambridge Galacticos FC where he enjoyed playing with his friends in a local league.
In the classroom, on the court, or on the field, Jacob was someone that everyone loved to be around and he would light up a room with his contagious smile and personality. Every team and group that Jacob was a part of, he was an integral part of the unity. He united the group through his ability to get along with everyone and instill positivity.
In honour of Jacob, we at Next Level U Sports wanted to continue to share his story, while making an impact in the community, just like Jacob did. On behalf of Jacob and his family, we have announced a Jacob Wehrle Memorial Scholarship
Award Criteria and Eligibility
All of the following criteria must be met in order to be considered for the award
You must be a graduating student athlete that is either committed to a post secondary institution or currently enrolled in a post-secondary institution
You must be a Next Level U Sports Athlete (Free Profile, Subscription Profile, or Prospect Athlete) See https://nlusports.com/our-services/ for information on our services. If you are not currently a NLU Sports athlete, you can make a Free Profile (this will only take you 5-10 minutes to complete).
You must submit the written essay meeting all the specifications.
Applications will no longer be accepted after May 15th. The reviewing process will be done over the next 3 weeks following the application deadline. The scholarship award will be presented on June 15th. 
Essay Specifications
How do you exemplify the characteristics that Jacob demonstrated in your community? Include any community programs, volunteer opportunities, schools clubs/teams/initiatives that you partook in and what impact you had.
How will you continue to demonstrate these positive characteristics at your post secondary institution?
Give an example of someone in your life that you have impacted significantly in a positive way (Family members, classmates, teammates, etc.). How did you impact them?
Essay should be a minimum of 1 page and a maximum of 5 pages, double spaced, using Times New Roman 12 point font, 1 inch margins.
Award Amount: Minimum $1,000 with additional donations and sponsorships pending. Additional donations can be made via the Scholarship's GoFundMe page.
All donations that are made to this scholarship will be added to the awarded amount. If the total award exceed's over $2,000, multiple scholarship awards will be disbursed.
Excess College Advising aims to help student athletes get more from their college experience:
Find more money – Internal and External Scholarships
Save more money – Review of Student Accounts
Extra support with Admissions and Compliance