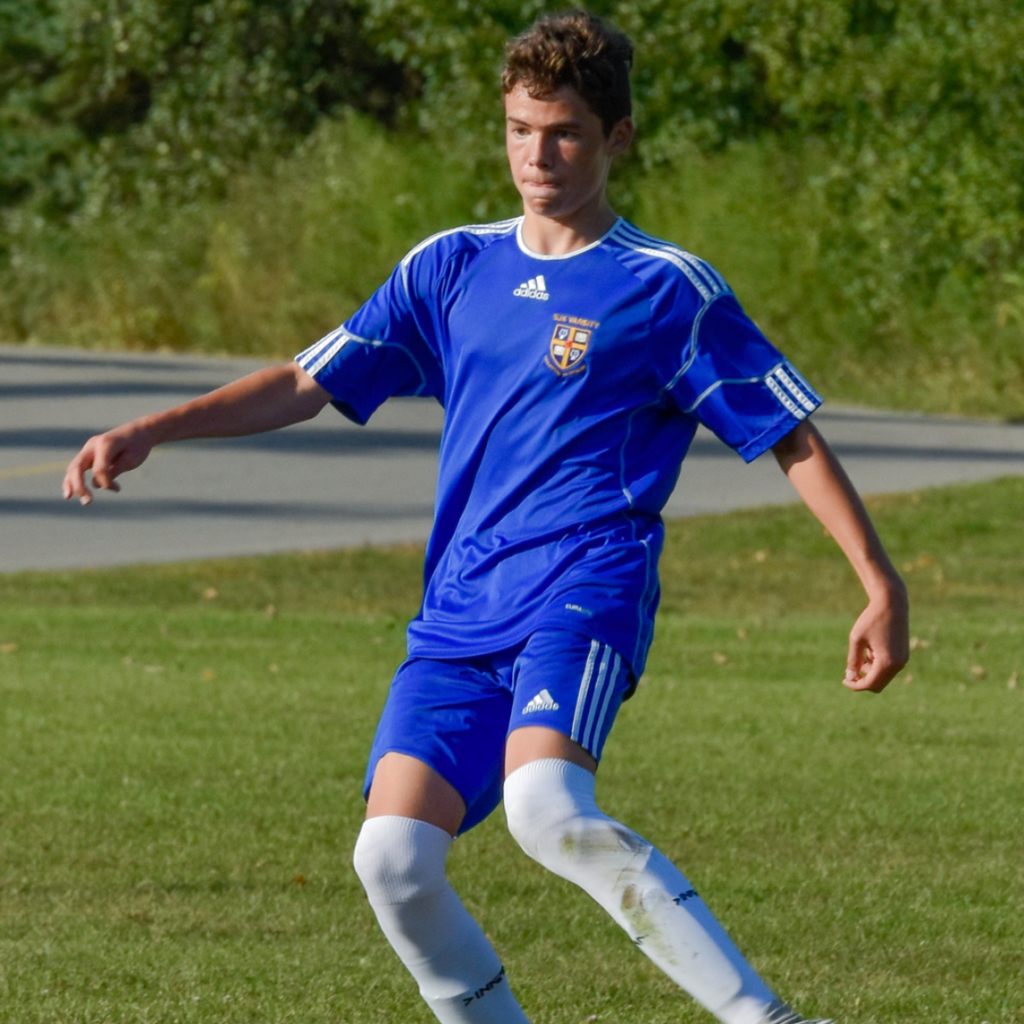 Calum Heimbecker
NCAA ID: 2105161517
Status: Uncommitted
Class of 2023
Next Level U Statement
I am interested in playing soccer at a 4 year institution, obtaining a film and media, business, and sports journalism education. I can be utilized in a very effective way almost anywhere on the field, with my main strength being primarily in the midfield, but also in the back line and attacking line. I will take one for the team, and give it my all to reach our objective. I am an important asset to the team by using my quick thinking, skill, and knowledge of the game. I also make sure to be a leader through both the good and bad times by keeping my team's moral high. I look to break defensive lines from the midfield and back line so my team can move forward and advance towards the goal.
Contact this athlete
Academics
Business
Film
Sports Broadcasting, Journalism, & Entertainment
Country

Canada

School Name

St. John's Kilmarnock School

School City

Breslau
Grad Year

2023
Athletics
Gender:
Male
Citizenship:
Canadian
Height:
6'0
Weight:
152
References:
Peter & Stuart Mackie
RED Academy Coaches
Cell: 519-588-6832
Johnathan Smit
High School Soccer Coach
Email: j14smit@gmail.com
Greg Nyhof
Personal Trainer
Email: greg@the1440affiliate.com
Positions:
Midfield/Winger/Fullback/Centreback
Player Style:
Playmaker/Defender/Scorer/Dribbler
Player Strengths:
Stamina, Passing, Technical skill, Dribbling, Shooting
Leadership:
FCBEscola International Tournament Ottawa Captain VS FCBEscola Switzerland
Team History:
SJK Boys Soccer Grade 7-Present (Current School)
RED Academy U16 – U17 (Current Club)
Waterloo United OPDL U13 & U14 (Club)
FCBEscola Barça Academy Mississauga U11 – U12 (Club)
Other Info:
Willing to play at the highest level I can anywhere in the USA or Canada.
Individual Accomplishments:
Honour Roll (Grade 7-Present)
SJK Jr. Boys Soccer Champions MVP Award
SJK Todd Shannon Memorial Award
SJK Robi Mall Memorial Spirit Award
FCBEscola International Tournament Team Captain
Phys Ed. Award
SJK Boys Basketball Member
Previous Member of SJK Cross Country & Track and Field Team
Member of SJK TV
Grade 6 Student Council
Waterloo Tigers Triple AAA Baseball 2012-2015
Waterloo Wolves Select Hockey 2013
Team Accomplishments:
SJK Jr. Boys Soccer CISAA DII Champions (Grade 9)
Waterloo U14 Boys OPDL Top Rated Event Series Champions
SJK U14 Boys Soccer CISAA DIII Champions (Grade 7)
FCBEscola International Tournament (Grade 6)