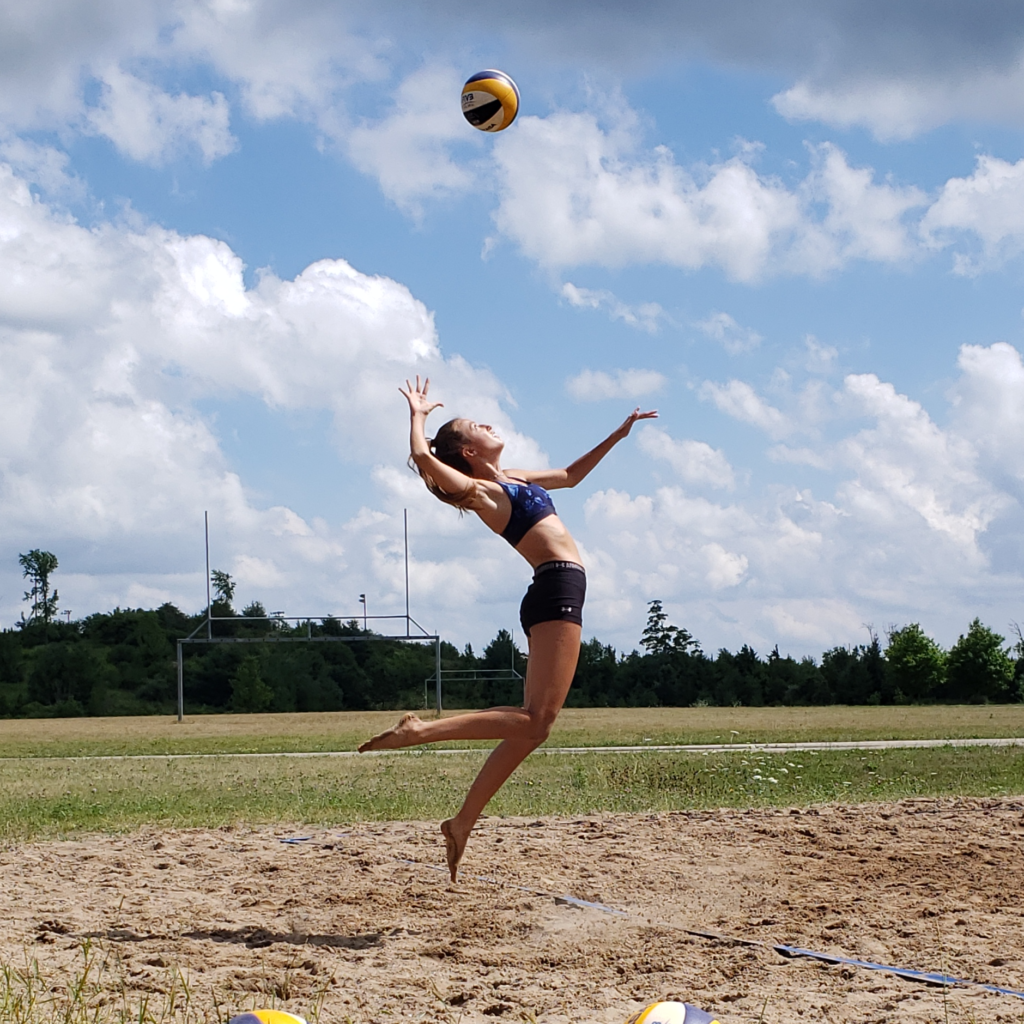 Chloe Bush
NCAA ID: n/a
Status: Uncommitted
Class of 2020
Next Level U Statement
My goal is to play post-secondary volleyball at a competitive school while working towards a career in health care. I am open to playing either in the US or Canada for a high level team. I am a hard working, very coachable athlete who welcomes and seeks feedback. I have been responsible for leading my teammates through warm ups before games and practices and am a player that leads by example. I am a supportive teammate who enjoys volleyball while being a serious and focused player at practice. I focus on being an efficient and consistent player who has worked hard on limiting errors during my 3 years of club volleyball.
As a student I am outgoing and continue to have an excellent rapport with my teachers and peers. As well as demonstrating excellent communication skills, my teachers describe me as determined, hard working, organized and a pleasure to teach. I have been adaptive and resilient through this challenging senior year which combines remote and in- person learning. Through all this I've been able to stay focused on my commitments, maintaining a balance between school, volleyball and work.
I currently work part-time at an upscale boutique as a sales consultant as well as running their social media accounts to promote the business. I have also enjoyed working with my community, volunteering for events such as Earth day clean-ups, Terry Fox runs, and Heart and Stroke Foundation fundraisers. I have worked to help build the volleyball community at both my club and school through volunteering, as the sport of volleyball has always been an important part of my life to which I enjoy giving back to.
Contact this athlete
Academics
School Name

Centennial Collegiate Vocational Institute

School City

Guelph
Grad Year

2020
Athletics
Gender:
Female

Team Name:
Guelph Jr. Gryphons Volleyball
Positions:
Middle, Power, Right side
Player Style:
Athletic, defensive player who focuses on blocking
Player Strengths:
Extremely coachable. Can play a variety of positions and offer consistent production. Excellent attacking vision reading blockers and defenders
Leadership:
Volleyball Workshop Coaching Assistant
CCVI Junior Volleyball Warmup Leader
University of Guelph Tournament Volunteer
CCVI Senior Boys Volleyball Scorekeeper
Earth Day Volunteer
Canadian Cancer Society Fundraising
Team History:
Guelph Gryphons Volleyball U18
Guelph Competitive Beach Volleyball U17
Guelph Gryphons Volleyball U17
Centennial CVI Volleyball Senior 2019-2020
Guelph Competitive Beach Volleyball U16
Centennial CVI Co-Ed Volleyball 2019
Guelph Gryphons Volleyball U16
Centennial CVI Volleyball Junior 2018-2019
Guelph Beach Volleyball 2018
Centennial CVI Beach Senior Volleyball (playing up) 2018
Centennial CVI Varsity A Soccer 2018
Guelph Gryphons Volleyball U15
Centennial CVI Volleyball 2017-2018
Guelph Beach Volleyball 2017
Guelph Gryphons rep Soccer U18 (playing up) 2017-2018
Guelph Gryphons rep Soccer U14
Guelph Gryphons rep Soccer U13
Guelph Royals rep Soccer U10-U12
Individual Accomplishments:
Junior Gryphons Volleyball MIP 2018- 2019
Junior Gryphons Volleyball MIP 2017-2018
Gryphons OVA Kitchener Tournament MVP 2018
Gryphons OVA Kitchener Tournament MIP 2018
Gryphons OVA Newmarket Tournament MVP 2018
Trail Blazer Award (school participation) 2017
Guelph Gryphons Soccer Peterborough Cup Champions 2016
Guelph Gryphons Soccer Woolwich Invitational Champions 2016
Stats:
Standing Touch: 8'10"
Approach Touch: 9′
0.256- OVA Provincial Cup (power) 2019
0.143- OVA Provincial Cup (middle) 2019