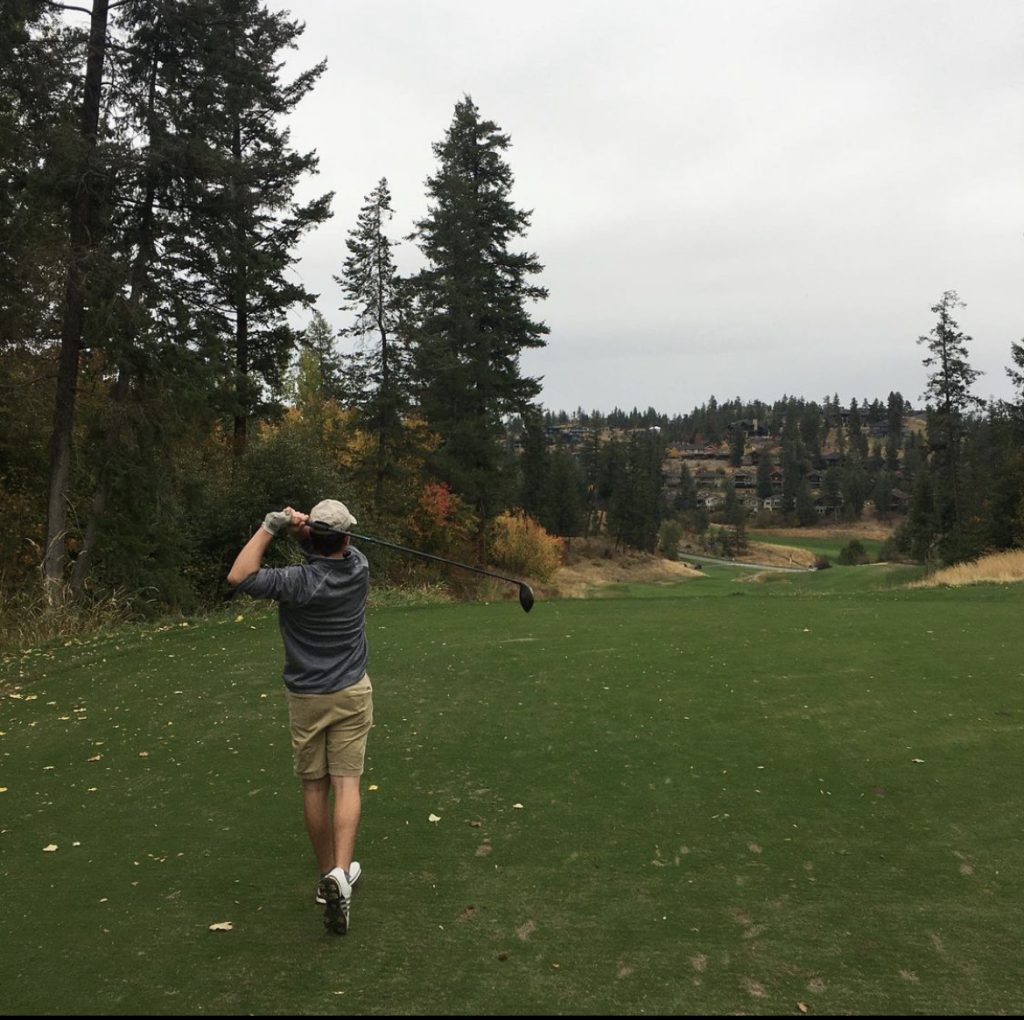 Easton Hopkins
Status: Uncommitted
Class of 2023
Next Level U Statement
I am a junior competitive golfer currently in grade 12. I attend Central Memorial high school and participate in multiple MJT, Alberta, and Canada golf events. While competing in golf I also achieved my first-degree black belt in Taekwondo after seven years of practice. My goal is to play golf at a competitive level while obtaining a business degree. 
Contact this athlete
Academics
I am interested in attending a 4 year institution which can get me a degree in buisness
Country

Canada

School Name

Central Memorial High School

School City

calgary
Grad Year

2023
Athletics
Easton Hopkins
Age:17. 03/21/2005
Phone: (587)-578-3278
Email: eastonhopkins@icloud.com
Gender:
Male
Citizenship:
Canadian
Height:
6ft
Weight:
190
References:
Luke Workman
Glencoe G&CC Teaching Centre, Calgary, AB
lwworkman@gmail.com
Class "A" Teaching Professional
(403) 680 6918
Team Name:
MAPLE LEAF JUNIOR GOLF TOUR
Player Style:
Course management, assessing risks 
Player Strengths:
My wedges are the best part of my game as well as the speed I can generate off the tee. A strength I play into is maintaining a positive mindset if things are going my way or if they are not going as predicted.
Individual Accomplishments:
First-degree black belt in Taekwondo
Blue belt in Kickboxing 
Winning the 2019 Shaw Charity Classic Drive, Chip & Putt contest presented by West Island College.
Winning my age division in the 2022 Faldo Hurricane Series Qualifier at Turner Valley
Club Distances:
Driver:270
4wd:245
3I:225
4I:215
5I:200
6:185
7:175
8:165
9:150
p:140
50:125
56:80-105
60:45-80
Tournament Low Scores:
June 11-12 2022, CJGA Faldo Hurricane Series Qualifier at Turner Valley , Black Dimond, AB Junior Boys 75,74 : 149 . 73 Stony Plain MJT 2022. 75 Paradise Canyon MJT 2022
Stats:
HDCP: 3.7
Right Handed
Date
Name
Location
Division
Scores
Place
OOM Pts
2022
Apr 30-May 1
MJT – Global Sport Academy Spring Classic at Paradise Canyon Golf Resort
Lethbridge, AB
Junior Boys
85, 75 : 160
30
6.67
May 22-23
MJT Humber College PGM Classic at Fairmont Banff Springs GC
Banff, AB
Junior Boys
75, 86 : 161
22
10.00
Jun 18-19
MJT Ford Series at Stony Plain Golf Course
Stony Plain, AB
Junior Boys
80, 73 : 153
6
157.50
Jun 27-28
MJT Ford Series at Olds Central Highlands
Olds, AB
Junior Boys
78, 79 : 157
8
135.00
Jul 4-6
MJT Ford Series / PGA of Alberta Jr. Championship at McKenzie Meadows Golf Club
Calgary, AB
Junior Boys
76, 83 : 159
0 MC
0.00
Aug 4-5
MJT – SAIT Trojans Classic at Turner Valley GC
Turner Valley, AB
Junior Boys
80, 90 : 170
16
45.00
Aug 15-17
MJT Edge School Summer Classic at Coyote Creek GC
Sundre, AB
Junior Boys
76, 83, 82 : 241
22
20.00
2021
Jun 12-13
MJT Ford Series at Stony Plain Golf Course
Stony Plain, AB
Juvenile Boys
86, 81 : 167
16
45.00
Jun 19-20
MJT Alberta Jr. Preview pres. by Junior Golf Hub at Carstairs GC
Carstairs, AB
Juvenile Boys
77, 80 : 157
13
125.00
Jun 28-29
MJT Ford Series at Olds Central Highlands
Olds, AB
Juvenile Boys
81, 76 : 157
12
125.00
Jul 27-28
MJT Western Championship pres. by Junior Golf Hub at Copper Point GC
Invermere, BC
Juvenile Boys
78, 76 : 154
12
125.00
Aug 3-4
MJT G&G Prodigy Series at Turner Valley GC
Turner Valley, AB
Juvenile Boys
73, 81 : 154
6
165.00
Aug 30-31
MJT Alberta Series at Desert Blume GC
Medicine Hat, AB
Juvenile Boys
84, 74 : 158
8
135.00
Sep 11-12
MJT Ford Series at RedTail Landing GC
Nisku, AB
Juvenile Boys
80, 74 : 154
14
0.00
2020
Jun 21-22
MJT Alberta Season Opener at Carstairs GC
Carstairs, AB
Juvenile Boys
78, 86 : 164
16
75.00
Jul 1-2
MJT Alberta Series presented by SAIT Trojans Athletics at Paradise Canyon Golf Resort
Lethbridge, AB
Juvenile Boys
78, 91 : 169
24
20.00
Jul 13-15
MJT Ford Series / PGA of Alberta Jr. Championship at McKenzie Meadows Golf Club
Calgary, AB
Juvenile Boys
78, 85, 73 : 236
14
125.00
Jul 27-28
MJT PLYR Series at Meadowlands Golf Club at Sylvan Lake
Sylvan Lake, AB
Juvenile Boys
84, 84 : 168
17
45.00
Aug 10-11
MJT Ford Series at Olds Central Highlands
Olds, AB
Juvenile Boys
84, 81 : 165
17
75.00
Aug 24-25
MJT Alberta Series pres. by ReimerGolf & U of C Dinos at Mickelson National GC
Calgary, AB
Juvenile Boys
87, 74 : 161
15
100.00
Sep 6-7
MJT Humber College PGM presented by TaylorMade at Fairmont Banff Springs GC
Banff, AB
Juvenile Boys
78, 82 : 160
10