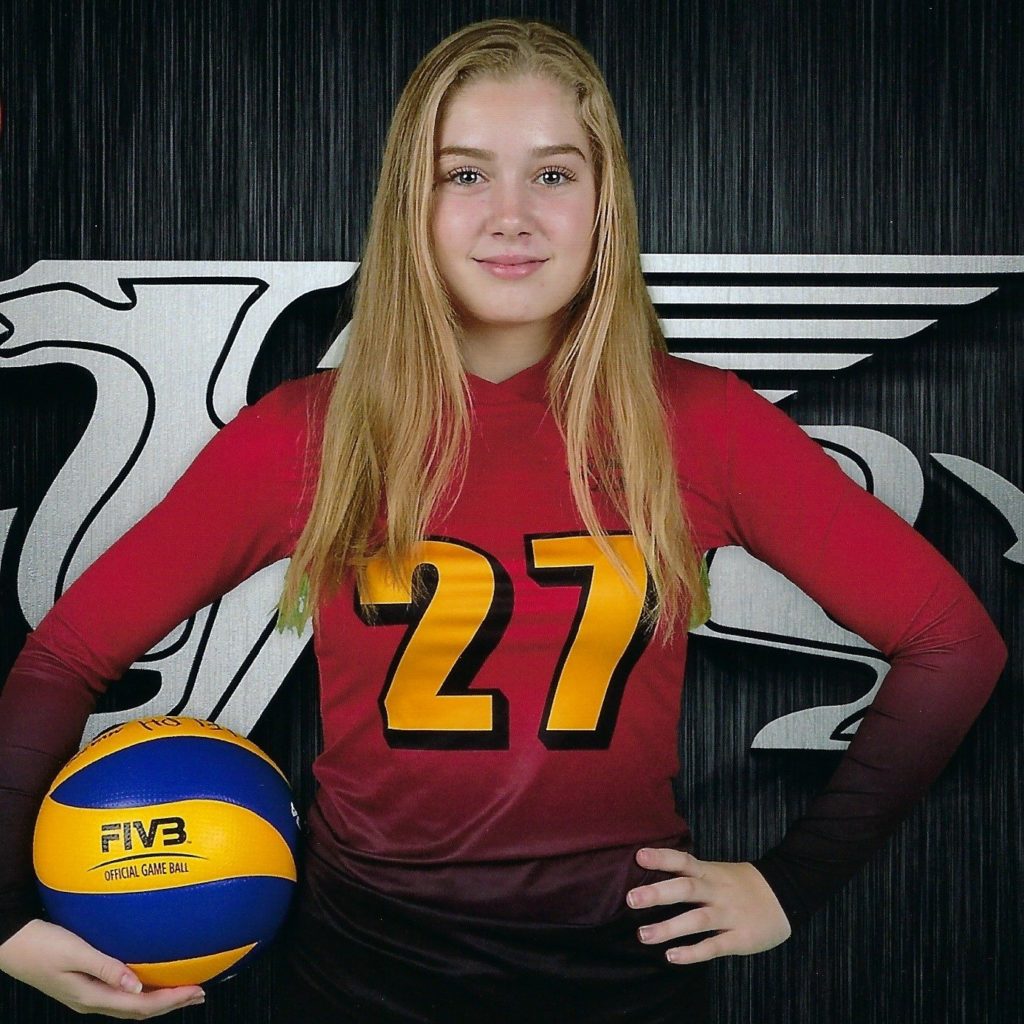 Mikayla Murch
NCAA ID: n/a
Status: Uncommitted
Class of 2022
Next Level U Statement
My goal is to be part of a University volleyball team where I can add value and bring a winning attitude while pursuing my post secondary education in psychology and behavioural science.. I am a fearless defensive specialist who prides herself in being an asset to my team. Everyday, I pride myself in bringing a hard working attitude, a role modeling leadership style, a passion for excellence through collaboration and a great sense of humor. On the court, I bring an intuitive, adaptive and relentless defensive approach with a fearless sense of how to break down my competition across the net with an unwavering fighting spirit for each and every point.
Contact this athlete
Academics
School Name

Bishop Macdonell Catholic High School

School City

Guelph
Grad Year

2022
Athletics
Gender:
Female

Team Name:
Guelph Jr. Gryphons Volleyball
Positions:
Libero, Defensive Specialist, Left Side
Player Style:
Intuitive, Adaptive, Fast
Player Strengths:
Adaptable player with strong serve receive defense with ability to quickly read and react to attackers. Powerful, consistent left-handed server who intuitively pivots and hits spots exposing weakness opponents' defense while boasting a vertical jump strength that catches opponents off-guard.
My coaches love my versatility as a player, as I bring power, speed and agility to each position I play across the court including libero, right side and most recently left side.
Leadership:
High School Volleyball Co-Captain
Leadership Award, Bishop Macdonell Junior Volleyball Team 2019
4 Sport MVP St Paul Public School 2017 (Track, Baseball, Badminton, Volleyball)
2017 St Paul, Female All-Round Athlete of the Year
Team History:
Guelph Gryphons U17 Fury (current)
Guelph Gryphons U16 Fury
Bishop Macdonell Junior Girls Volleyball (Grade 10)
Guelph Gryphons U15 Spirit
Bishop Macdonell Junior Girls Volleyball (Grade 9)
Individual Accomplishments:
Honor Roll
Guelph Jr Gryphons Volleyball U16 MIP Player
Bishop Macdonell High School Jr Volleyball Leadership Award
Guelph Jr Gryphons Volleyball U15 OVA Award of Excellence (first year of playing)
Provincial Track and Field Championships Competitor, 100 and 200 m
Competitive Figure Skating Medalist – 4 Golds, 1 Silver and 3 Bronze in 10 competitions (Juvenile U14/StarSkate)
Provincial Figure Skating Finalist – Juvenile U14
Female Athlete of the Year Grade 8
Top Female Track and Field Athlete and 1st place in 100 m, 200 m,
Long Jump, Triple Jump and Relay (Grade 8 Wellington County Championships)
MVP Girls School Volleyball, Track and Field, Baseball and Badminton Grade 8
Team Accomplishments:
Jr Volleyball School District D4/10 Champion, CWOSSA semi-finalist (grade 9)
Guelph Jr Gryphons 16U OVA Silver Medalists (Guelph Gryphon Fury – playing as 15U player)
Jr Volleyball School District D4/10 Finalist, CWOSSA competitor (grade 10)
Stats:
Block Touch: 8.8
Approach Touch: 8.8