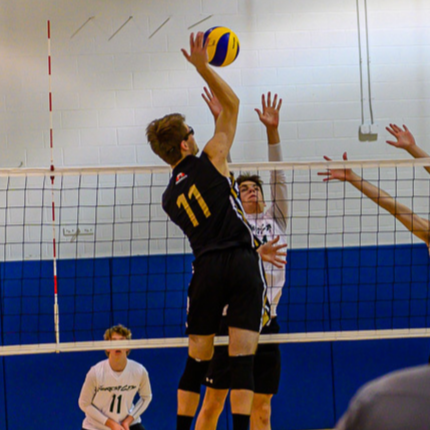 Aidan Carne
NCAA ID: n/a
Status: Committed to Durham College
Class of 2021
Next Level U Statement
My objective is to continue playing the sport I love at the post-secondary level, while pursuing an education in Health Sciences. I am a very flexible player and will be a very powerful asset to any team.
Contact this athlete
Academics
School Name

Bishop Ryan Catholic Secondary School

School City

Hamilton
Grad Year

2021
Athletics
Gender:
Male

Team Name:
Guelph Jr. Gryphons Volleyball
Positions:
Outside Hitter
Player Style:
I am a very calm and collected player who is always watching and analyzing other teams weaknesses whether on or off the court. I am also a strong leader who can be depended on to score big points in high pressure situations.
Player Strengths:
I am able to accurately place my serve to either put the other team out of system or to score an ace. My vision on the court allows me to read and react to the hitters in order to play strong defense. I can play against any level opponent and raise my game play to compete. At the net I block with authority which helps my teammates pick up a tip or hard driven swing.
Leadership:
2x Captain for Bishop Ryan Jr. Volleyball Team
2x Captain for Hamilton Smash Volleyball Club
Team History:
Guelph Jr. Gryphons Gladiators 17U

Pakmen Black 17U

Bishop Ryan Celtics Senior Volleyball (Gr. 11)

Hamilton Smash Rebels 15U

Bishop Ryan Celtics Junior Volleyball (Gr. 10)

Region 3 Volleyball, Ontario Summer Games 14U

Hamilton Sparta Rep Soccer Club 16U

Hamilton Smash 14U

Bishop Ryan Celtics Junior Volleyball (Gr. 9)
Individual Accomplishments:
Catholic MVP City All-Star Volleyball Game (Gr. 10)

Bishop Ryan Celtics Junior MVP (Gr. 10)

OVA Award of Excellence 14U

Represented Region 3 Volleyball at Ontario Summer Games 14U

Honour Role (Gr. 9, 10)

Knights of Columbus Award

HWCDSB Directors Award for French
Team Accomplishments:
OVA Championship Division Gold Medal 17U

Bishop Ryan Celtics HWCDSB Senior Volleyball Champions (Gr. 11)

OVA Provincial Division 1 Tier 2 Bronze Medal 15U

OVA Championship Division Silver Medal 15U

Catholic City All-Star Champions (Gr. 10)

Bishop Ryan Celtics HWCDSB Junior Undefeated Champions (Gr. 10)

Spectator Cup Champions (Hamilton Sparta Rep Soccer Club 16U)

Bishop Ryan Celtics HWCDSB Junior Volleyball Champions (Gr. 9)
Stats:
Standing Touch: 10'1″
Approach Touch: 10"4″
Serve Receive: 83%
Serve: 80%
Hitting: 89%