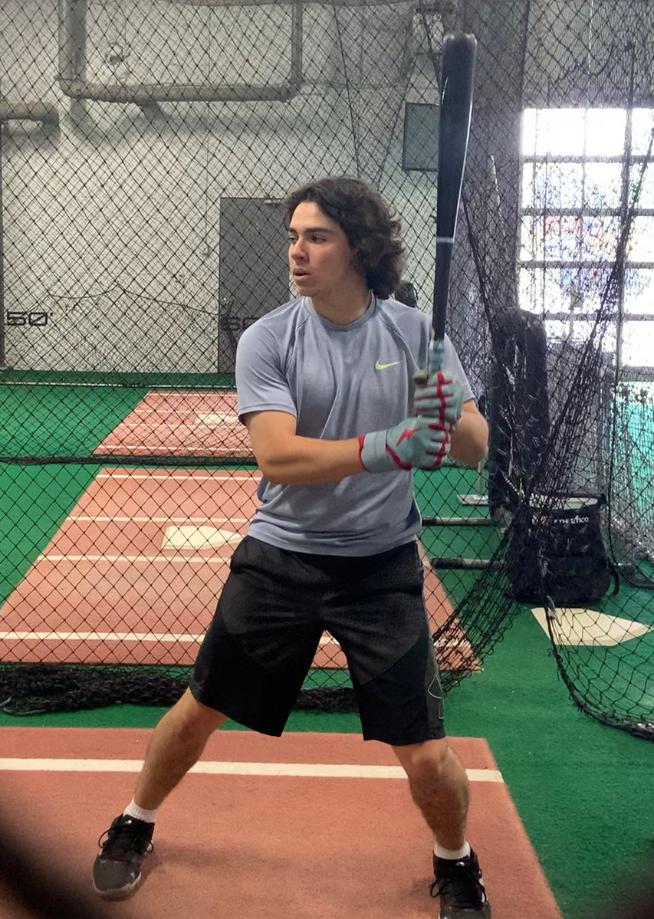 Alex Camilo
NCAA ID: 1902414215
NAIA ID: 738976
Status: Committed to Holy Family University
Class of 2023
Next Level U Statement
Interested in playing baseball at a 4 year institution while continuing to obtain a business/sports management degree after my current school closed. An asset to a team with my leadership skills, ability to read and understand the game. Have a desire to learn and get better on the field and in the classroom. Strong left handed contact hitter with gap to gap power with speed on the bases and the ability to track balls down in the outfield.
Contact this athlete
Academics
Looking to attend a 4 year school where I can continue my degree in Business/ Sports Management.
Country

Canada

School Name

Monsignor Doyle Catholic Secondary School

School City

Cambridge
Grad Year

2023
Athletics
Well rounded athletic player that has played a wide variety of sports his whole life. Understands the advantages of being an all around athlete. Plays all sports with a competitive yet disciplined edge that makes it hard to play against. May not be the biggest player on the the field but plays like his is!
Gender:
Male
Citizenship:
Canadian
Height:
5'9"
Weight:
175 pounds
References:
Coach Andre Narvaez- Alliance University -NCAA D2- 1-862-763-0693
Coach John Lanutti- 22U Guelph Silvercreeks- Summer baseball- Email-jplanutti@gmail.com- Cell# 519-835-2411
Andrew Karkoulis- Owner Peak Hithouse- Trainer since the age of 9 and now an employee. Cell# 1-519-400-5408
Positions:
Any outfield position, also played second base.
Player Style:
Patient, disciplined hitter to work the count and get on base by any means necessary. Aggressive tracker of the ball with speed in the field and on the bases. High baseball IQ to anticipate plays and be savvy on the bases. Leadoff or top of the order type player who gets on base and doesn't strikeout a lot.
Player Strengths:
High IQ player on the field and on the bases. Takes good routes to the ball with a quick first step in the outfield and on the bases. Disciplined hitter with a very low strikeout rate combined with hit to walk ratio at the plate.
Leadership:
Leader on 18U Ontario Nationals baseball team
Leader on 2023 Guelph SIlvercreeks 22U team in second year.
Selected by Coach Narvaez at Alliance University to be a captain of baseball team in Sophomore year but school closed.
Team History:
Cambridge Cubs 9-13
Ontario Outlaws 14U
Fieldhouse Pirates 15U
Ontario Nationals 16,17 and 18U
Redshirt at College of the Desert as a freshman, Juco in Palm Desert, California
Played 2 summers with 22U Guelph Silvercreeks (2022/2023)
Freshman at NCAA D2 Alliance University 2022/2023 season (formerly Nyack College) in New York City. (school closed)
Other Info:
I have worked the past 2 summers at a baseball facility (Peak Hithouse) training younger ball players the fundamentals of hitting, throwing, pitching and catching. I find it very rewarding and love talking baseball with the youth players, their parents and coaches. While working at this facility it affords me the opportunity to hit, throw and workout before and after work all summer long and come into the fall season in baseball ready shape.
Individual Accomplishments:
Lead0off batter throughout baseball at all levels, Great plate discipline to get on base any way possible.
15U Vanderbilt U.S Nationals- Co-Player of the game 2/2, W, R,RBI,SB
Various player of the game awards pre 14U
Athlete of the Year and Academic Achievement awards (higher than 80 Average) grade 8
Hockey goalie since the age of 8, played AAA and AA. Have received numerous player of the game awards.
High School- Ontario Scholar award
Was going to be a baseball Captain in Sophomore year at Alliance University
Team Accomplishments:
2019- Ontario Hockey Champions
2022- ICBA season and Pennant Champions with 22U Guelph SIlvercreeks (summer ball)
2022- Third place at Provincial Championships with 22U Guelph Silvercreeks.
Stats:
2023 Alliance University (NCAA D2) Freshman Season
.216 Avg, .600 Ops., 41 Gp, 39 GS, 116Ab, 14R, 25 H, 2 Dbl, 1 Tpl, 7 Rbi, .250 Slg, 19Bb, 5 Hbp, 16 K, .350 Obp, 9-13 Sb
2022 Summer baseball 22U Guelph Silvercreeks (first year) 30 games played including season, playoff and tournaments.
.419 Avg, 0.527 Ops, 0.514 Slg, 31 Hits, 5 Xbh, 14 Rbi, 16 Bb, 15 Sb
2023 Summer baseball season 22U Guelph Silvercreeks (Second year) 25 games played including season and tournaments.
.440 Avg, .536 Obp, .652 Slg, 66 Ab,  29 Hits, 11 Xbh, 12 Bb, 9/10 Sb
Highlight Video
This video contains defensive plays in centerfield, several plate appearances along with base running. Footage is from game action in season with Alliance University and Guelph Silvercreeks summer ball.