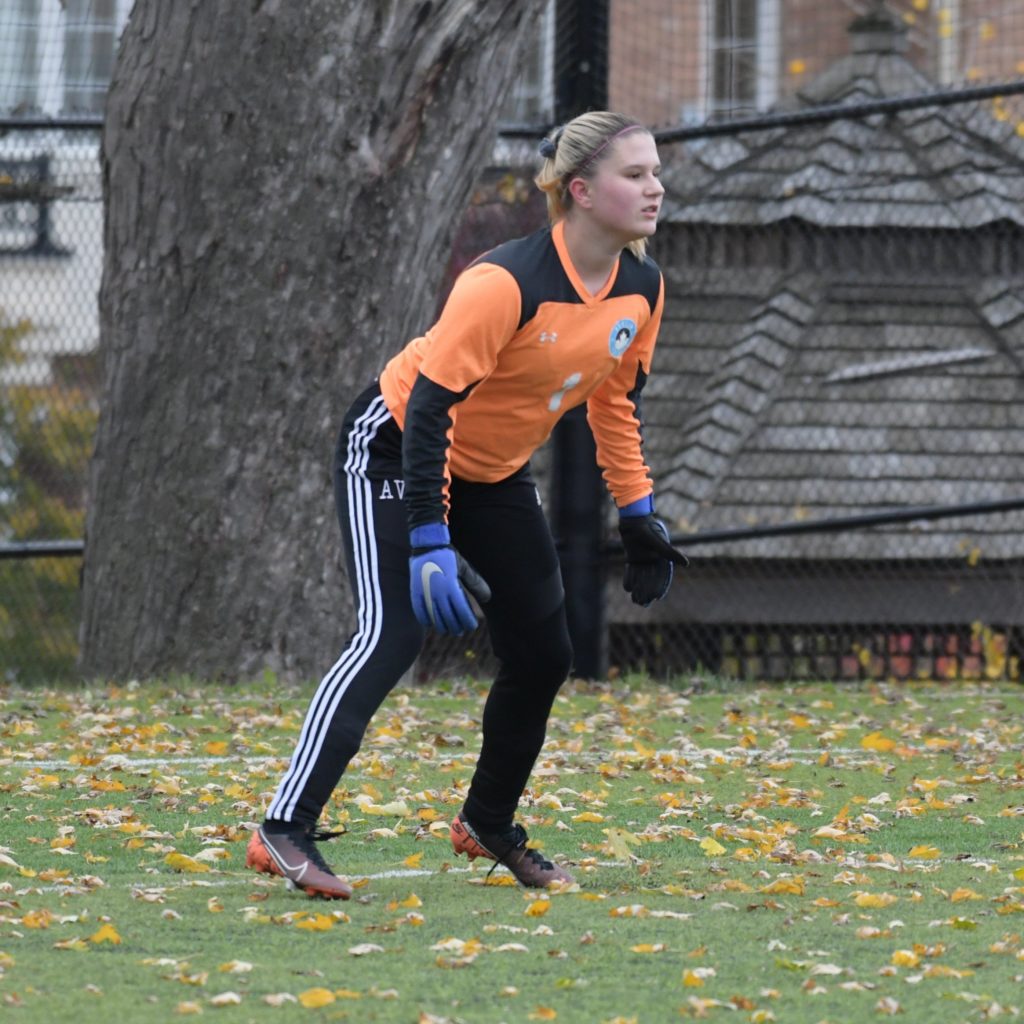 Alison Van Schaik
NCAA ID: n/a
Status: Committed to North County CC
Class of 2021
Next Level U Statement
Interested in playing soccer at a post-secondary institution in the US or Canada while pursuing an education in sports medicine or kinesiology. In addition to being an honour roll student, Alison is enrolled in a specialized high school major for sports and is working toward her NCCP certifications, along with First Aid and CPR certifications.
Contact this athlete
Academics
School Name

Waterloo Collegiate Institute

School City

Waterloo
Grad Year

2021
Athletics
Gender:
Female

Team Name:
FC Berlin
Positions:
Goalkeeper
Player Style:
Alison is an aggressive GK, who remains calm under pressure. She is not afraid to run out and challenge when necessary.
Player Strengths:
Alison is a positive player on and off the field. She has been described as fearless and does not shy away from challenging an opponent to save the ball. Her determination to always be improving and never give up is apparent in her work ethic in and out of practices and particularly during games. In addition to Alison's strong work ethic, she has excellent instincts and has an innate ability to trust her gut, in order to make split-second decisions under pressure.
Leadership:
Waterloo Collegiate Student Council (2018-Present)
Waterloo Collegiate Athletic Council (2019-2020)
Day Camp Counsellor (2015-Present)
Team History:
Waterloo United C – 2016-2017
Stratford Strikers – 2017-2018
Berlin U17 – 2018-2019
Waterloo Collegiate Girls – Spring 2019/20
Berlin Football Academy II – Present
Individual Accomplishments:
March Madness Tournament Finalists at London Optimist Sports Centre (2019)
Waterloo Collegiate Institute Honour Roll (Grade 9, 10 & 11)
Stratford Strikers Most Sportsman-like Award (2018)
Waterloo Collegiate Soccer Game MVP (2 in 2019)
Berlin FA Player of the Match (10 between 2018-2020)
Stats:
Berlin II Outdoor Season (2020)
Number of games played: 3
Number of shutouts: 1
Goals against: 6
Save percentage: 71.43%
Player of the Match Awards: 0
Berlin U18 Indoor Season (2019-20)
Number of games played: 21
Number of shutouts: 6
Player of the Match Awards: 3
Berlin U17 Outdoor Season (2019)
Number of games played: 21
Number of shutouts: 5
Goals against: 41
Saves during season: 96
Save percentage: 70.07%
Player of the Match Awards: 3
Waterloo Collegiate Girls Soccer Season (2019)
Number of games played: 19
Number of shutouts: 8
Goals against: 28
Player of the Match Awards: 2
Berlin U17 Indoor Season (2018-19)
Number of games played: 29
Number of shutouts: 6
Player of the Match Awards: 4
Stratford Strikers (2018)
Number of games played: 9
Number of shutouts: 3