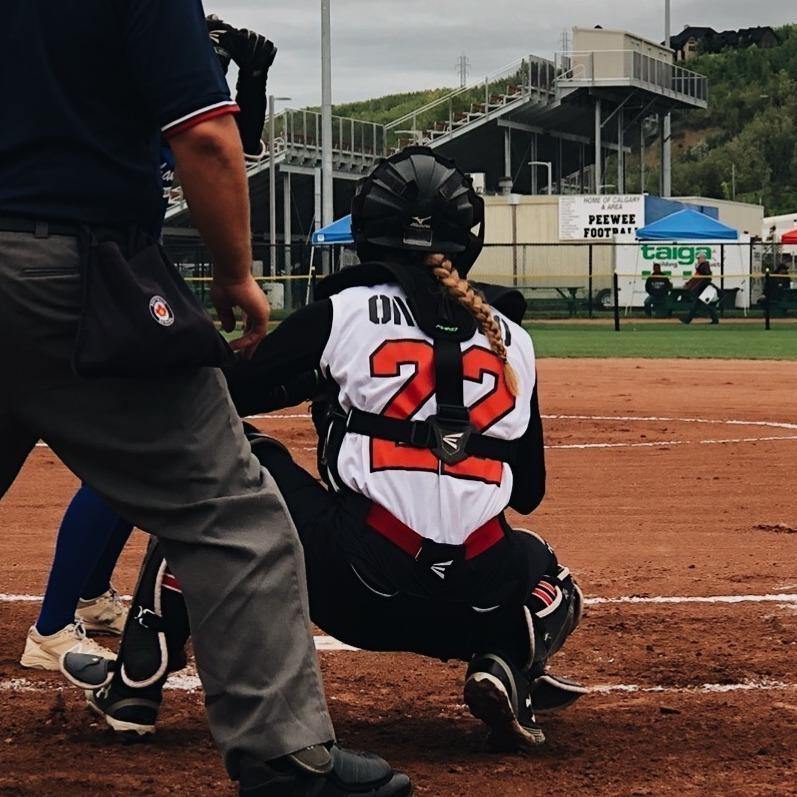 Avery Curran
NCAA ID: 2106183786
Status: Committed to California University of Pennsylvania
Class of 2022
Next Level U Statement
I aim to play softball at a 4 year University/College institution while pursuing a degree related to Sports Medicine/Kinesiology. I bring passion, leadership, confidence and a love of the game that is evident every time I step on the field. My discipline and power as a hitter combined with my defensive strength, calmness, ability to see the play and field as well as my team first approach is an asset to any team.
Contact this athlete
Academics
School Name

Resurrection Catholic Secondary School & Waterloo Independent Secondary School

School City

Waterloo
Grad Year

2022
Athletics
Gender:
Female

Positions:
Catcher (primary); 3rd Base; Outfield
Player Strengths:
A natural leader with a strong work ethic to continuously improve myself. Coachable, determined, dedicated and driven all describe my approach to sports and academics. Offensively, I have demonstrated power to all parts of the field, am good at situational hitting and confidence to get deep into counts. Defensively, I have an extremely accurate and strong arm and am very good at optimizing my pitcher's strengths through my pitch selection and sequencing when catching.
Leadership:
Captain: 2016-2017 Kitchener Lady Rangers Peewee A Team (as selected by teammates)
Team History:
FASTPITCH:
2021- U19 UTM 2K4 KW Tier 1
2020- U16 UTM 2K4 KW Tier 1
2019- U16 UTM 2K4 KW Tier 1
2018- U14 Kitchener Klassics Black
2017- U14 Kitchener Klassics White
HOCKEY:
2019-2020 Kitchener Lady Rangers Midget A
2018-2018 Kitchener Lady Rangers Bantam A
2017-2018 Kitchener Lady Rangers Bantam A
VARSITY TEAMS:
2019-2020 Resurrection Varsity Girls Hockey Team
2019- Resurrection Varsity Girls Slo-Pitch Team
2018-2019 Resurrection Varsity Girls Hockey Team
Individual Accomplishments:
Honor Roller Student: Grade 9 & 10
FASTBALL:

2020 Team Ontario Camp Invite
2019 Hit game winning home run to help team advance to National Championship
2018 Named MVP at U14 National Championships (Montreal)
AB – 16 / 1B – 3 / 2B – 1 / 3B – 2 / HR – 2 / RBIs – 7 / Runs – 6 / AVG – .500 /
Slugging AVG – 1.188 / No errors
2018 Hit game winning home run to help team win Provincial Championship
2017- Selected as a pick up player by Mississauga North Tigers for National Championships in Brampton
Multiple tournament MVP and Top Hitter awards
HOCKEY:
Scouted multiple years by Rush Hockey as high potential player and invited to Showcase Tournaments.
Named MVP at a variety of tournaments
Team Accomplishments:
FASTBALL:
2020 POD play record of 9-0
2019 National U16 Championships (finished 12th)
2019 National U16 Qualifiers (Bronze as a first year Bantam team)
2019 Waterloo Warriors U16 Tournament (Bronze)
2019 UTM Super Max U16 Tournament (finished 4th)
2018 National U14 Championships (finished 11th)
2018 Won Provincial U14 Championships (Gold)
2018 Won Regional Provincial U14 Qualifier (Gold)
2018 Won UTM U14 Big Show Top Platinum Division (Gold)
2018 Michigan U14 Tournament (Bronze)
2018 Waterloo Ghosts U14 Invitational (Silver)
2018 Brampton U14 Blast (Gold)
Multiple other provincial qualifier and season tournament medals and finals
HOCKEY:
2019 Silver Medal at District 8 Varsity Hockey Championships
2016 OWHA Peewee A Provincial Silver Medal
2015-2016 LLFHL Peewee A Division Champions
2015-2016 LLFHL Peewee A Central Division Champions
Multiple other tournament medals and finals each year
Stats:
Fall Ball 2020
Record: 5-2
AB-14
AVG-.429
OBP-.467
OPS-1.538
SLG-1.071
H-6
1B-2
3B-3
HR-1
BB-1
SO-3