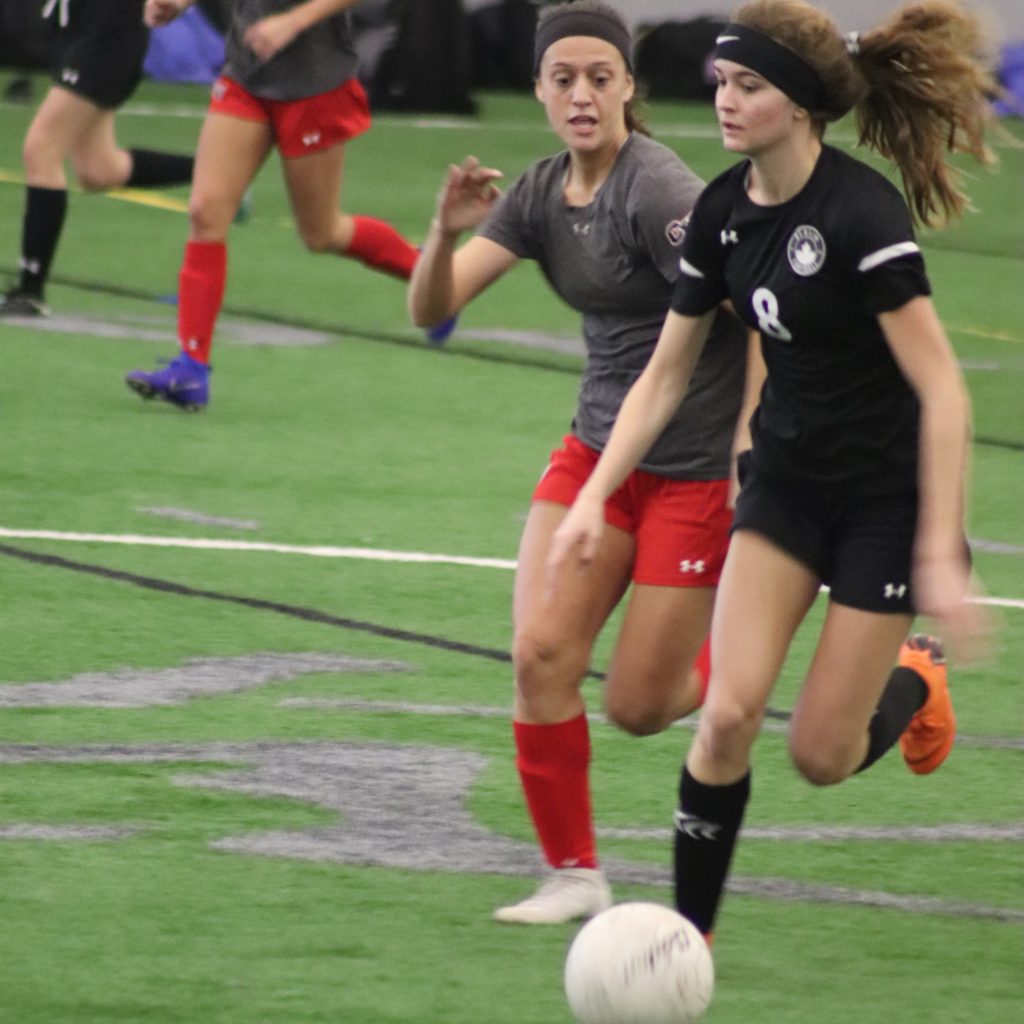 Chloe Schmidhuber
NCAA ID: n/a
Status: Committed to University of Wisconsin at Green Bay
Class of 2021
Next Level U Statement
Interested in playing soccer at a 4 year institution while earning a bachelor's degree in a health sciences discipline. A versatile player, brings to the team agile reflexes and impeccable ball control that is attributable to my ambidexterity. A perceptive attacker that uses skill and knowledge of the game to manipulate the ball with precision; opening opportunities and creating fast and effective plays. An asset to the team both on and off the field by demonstrating leadership and teamwork with a calm and responsible attitude. Also, a relentless and focused defender, rising to challenges by drawing upon an impressive reserve of speed and stamina.
Contact this athlete
Academics
School Name

Grand River Collegiate

School City

Kitchener
Grad Year

2021
Athletics
Gender:
Female

Team Name:
FC Berlin
Positions:
Forward, Midfield (centre, left wing, right wing)
Player Style:
Playmaker, Goal Scorer, Strong Attacker, Fast Footed
Player Strengths:
Technical Skill, Crossing, Shooting, Corner Kicks, Speed, Passing, Ball Control, Precision, Ambidexterity, Play Awareness, Stamina
Leadership:
2014-2016 Captain Of Ginga Girls Academy Soccer Team
Team History:
2014-2016 Ginga Soccer Academy Girls team
2017 Club Deportivo Chamberí (Madrid, Spain)
2018-2019 London Whitecaps U16 Team
2018-Present Grand River Collegiate Varsity Soccer team (grade 9-present)
2019-2020 Berlin XI Girls Team
Individual Accomplishments:
Plays: basketball, volleyball, badminton, and varsity soccer, earning accolades in soccer and basketball.
Athletic Accomplishments
2019 Junior Athlete Of The Year
2019 Junior Basketball MVP
2019 Junior Volleyball MVP Honourable Mention
2018 Rookie Of The Year Varsity Soccer Team
2017 Athlete Of The Year (Grade 8)
2017 Soccer MVP (Grade 8)
2016 Soccer MVP (Grade 7)
Academic Accomplishments
2019 Honour Roll (Grade 10)
2017 Graduated with Honours (Grade 8)
2017 Spirit Award Recipient (Grade 8)
Team Accomplishments:
2018 Soccer District Champion: Waterloo County Secondary School Athletic Association Soccer, Grand River Collegiate varsity soccer team
2018 Soccer District Semi-Finalist: Central Western Ontario Secondary School Association, Grand River Collegiate varsity soccer team
2019 Soccer District Champion: Waterloo County Secondary School Athletic Association Soccer, Grand River Collegiate varsity soccer team
2019 Soccer District Finalist: Central Western Ontario Secondary School Association, Grand River Collegiate varsity soccer team
2018 Volley Ball Tournament Champion: Eden Tournament, Grand River Collegiate Junior Volley Ball Team
2019 Soccer Division Champion: London Whitecaps girls U16 South Western Division
2019 Regionals (3rd), Soccer: London Whitecaps girls U16