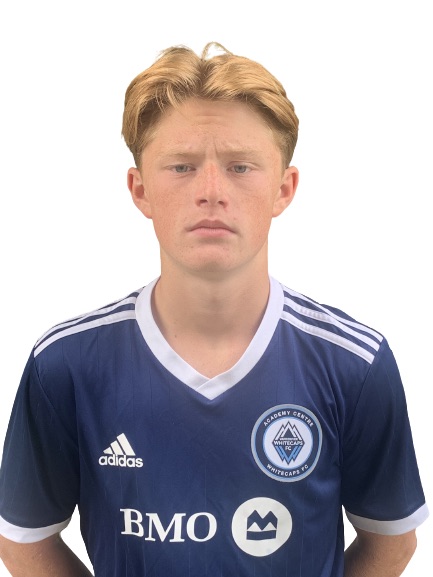 Connor Munn
Status: Uncommitted
Class of 2026
Next Level U Statement
Play high level soccer while completing programs in Kinesiology and Sports Physiotherapy. A superior defender who demonstrates his leadership both on and off the field. Calm and cool in all situations including breaking a press, he can shut down an offensive rush and launch a counter attack with both through and long balls.
Contact this athlete
Academics
Kinesiology and Physiotherapy
Country

Canada

School Name

Charles P. Allen

School City

Bedford
Grad Year

2026
Athletics
Highly athletic player with a strong sense of discipline and work ethic. An outstanding team player and communicator. A defender skilled at performing quickly and effectively. Consistently lowering the offensive threat by denying penetration, winning possessions, protecting and restricting the available attacking space and creating goal scoring chances.
Gender:
Male
Citizenship:
Canadian
Height:
5'11"
Weight:
155
References:
Jessie Burgins, Executive Director and Coach, Suburban FC
Ollie Hewish, Director of Soccer Programs and Operations and Coach, Suburban FC
Team Name:
FTF CANADA
Positions:
Centre Back
Player Style:
Playmaker and shutdown defender and a threat in the attacking box on set pieces
Player Strengths:
Skilled defender able to anticipate and predict the play,  strong heading and marking
Fearless going into challenge
Very skilled at clean tackles and aerial ability and winning possession
Composure regardless of opposition
Effective communicator through out the game with consistent focus, concentration and game sense
Excellent 1v1 defender, with strength, speed and stamina
Leadership:
Team Captain for Team Nova Scotia U15AAA 2022
Team Captain for Suburban u15AAA 2023
Team Captain for Whitecaps Academy  2023
Academic recognition award
Team History:
2022 & 2023 Suburban FC U15AAA (currently playing in U17AAA division)
U15 Provincial Nova Scotia Team (Team Captain) 2022
Umbro Tournament May 2022
Whitecaps Jr Nova Scotia Academy
u15AAA Toyota Club Nationals PEI 2022
Canada Soccer REX Integration Camp March 2023
Other Info:
Connor is well liked on and off the field always representing his teams with exemplary  standards. An excellent athlete with a passion for the beautiful game.
Connor has been a Junior Coach over past three years including Suburban Skill Centre & Simbas Programs
Individual Accomplishments:
Team Captain for Team Nova Scotia
Team Captain for Suburban u15AAA
Team Captain for Whitecaps Academy
Academic recognition award
Team Accomplishments:
Whitecaps Academy Player of the month July 2022
Bronze Medal Atlantic Championshios 2022
NS Provincial Champions 2022
Elite East Coast Combine Champions 2023
Stats:
Athletic Testing
Standing Broad Jump 245 cms
40m Sprint 5.0
2022 Season 4 goals, zero red or yellow cards