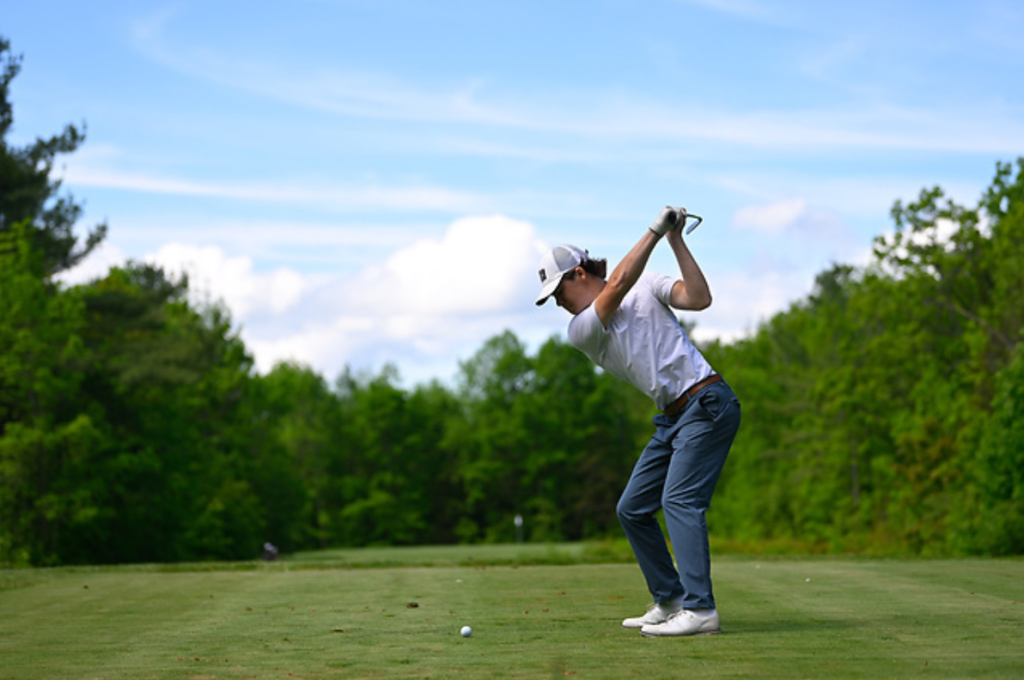 Dylan Weber
NCAA ID: 2202431531
NAIA ID: 853232
Status: Uncommitted
Class of 2023
Next Level U Statement
Welcome to my Profile Page! I am a high level golfer with success on and off the course. I do very well Academically and am looking forward to continuing my post secondary education in Business and/or Finance.  I excell in creativity, shot making  and ball striking while my strong wedge play is the backbone of my game. Those skills plus a calm, positive attitude towards the game are a staple on any team.
Contact this athlete
Academics
Finance
Business
Accounting
Sports Management
Country

Canada

School Name

Bishop Macdonell

School City

Guelph
Grad Year

2023
Athletics
Gender:
Male
Citizenship:
Canadian
Height:
5'10"
Weight:
155lbs
References:
Dave Smallwood
Player Style:
excellent ball striker and a shot maker
Player Strengths:
iron play, wedge game and creativity
Leadership:
High School Golf Captain as a Grade 9 and 11 (Grade 10 no golf due to COVID)
Team History:
Galt Junior Performance Team 2021
Bishop MacDonell CH golf team 2019/20
AAA Guelph Gryphons Hockey 2013-2019
Tier1 Guelph Royals Baseball 2011-2017
Individual Accomplishments:
2022 Results So Far
Maple Leaf Junior Tour  – current ranking 3rd National OOM Standings, 1st Ontario OOM Standings
June 11-12 Rebel Creek GC (Par 72, Rating 73.9) Won with scores of 74,73.
July 10-11 Guelph Lakes GC (Par 71, Rating 71.7) Won with scores of 68,68.
July 18-19 Galt Country Club (Par 70, Rating 69.5) Won with scores of 66,72.
Golf Canada
May 25-28. Ontario NextGen Championship at Oakbay CC 78,78 made cut 80. Placed 23rd out of 94
June 5 Ontario Junior Qualifier. Batteaux Creek GC (Par 72, Rating 72.8) Tied for 3rd with a score of 71. Qualified for Ontario Junior Championship.
July 5-8 Ontario Junior Championship at Timberwolf GC (Par 72, Rating 74.4)  156 Competitors. Shot scores of 77,76 and made the cut. Shot scores of 79,74 and made top 25 Quota Spots to qualify for Canadian Junior Boys Championship in August.
July 17. Ontario Junior Boys Match Play Qualifier at Cambridge GC (Par 72, Rating 71.6) 53 Competitors. Shot 74, tied for 13th and qualified for match play tournament.
2021
MJT Tour – 8 Events Played. Scoring Average 74.8
MJT Rebel Creek CC- 3rd Place
MJT Guelph Lakes GC – 2nd Place
MJT Grey Silo CC – 2nd Place
MJT Ambassador CC – 4th Place
MJT Carlisle CC – 2nd Place
MJT Tarandowa GC – 4th Place
Galt CC – 1st Place
Ranked #1 in Ontario for Order of Merit Qualifying Points and invited to National Championship
MJT National Championship, Morgan Creek CC, British Columbia – 4th Place
2021 Victoria Park Valley Junior Club Champion
2021 District 10 High School – 2nd Place
2020 and prior
2020 Victoria Park East Senior club champion
2019- Tee It Up OOM tour champion( won 4 of 6 events with a 2nd and a 4th)
2019/20 3rd place District 10 as freshman competing against grades 9-12
2017 Junior club champion Victoria Park Valley
High School Golf Captain as a Grade 9
Honour Roll Student (Grade 8 – Current)
Other sports
2016 All-Star team representative Cal Ripken tournament
2015 International Silverstick champions
2015 regional Silverstick game MVP
2017 Buffalo jr sabres tournament champions
Team Accomplishments:
Golf
2019 3rd place at D10 high school golf championships
Baseball
2016 All-Star team representative Cal Ripken tournament
Hockey
2015 International Silverstick champions
2015 regional Silverstick game MVP
2017 Buffalo jr sabres tournament champions
Club Distances:
Driver-300
3wood-275
5wood-250
4iron-225
5iron-210
6iron-195
7iron- 180
8iron-165
9iron 150
pwedge-135
50-125
54-115
58-105
Tournament Low Scores:
68 (-3) Guelph Lakes GC (Tournament Win) 70(E) Puslinch GC (Tournament Win) 74(+3) Cambridge GC (Tournament Win) 71(E) Victoria Park East GC (Tournament Win) 70(E) Springfield GC (Tournament Win) 70 (-1)Victoria Park east GC (Tournament Win) 71(-1) Carlisle GC (2nd Place Finish) 71(E) Rebel Creek GC (3rd Place Finish)
Stats:
65(-6) x3 Victoria park eastGC
65(-5) SpringField GC
66(-4) Galt Country Club
68(-4) Bateaux creek GC
handicap currently +1