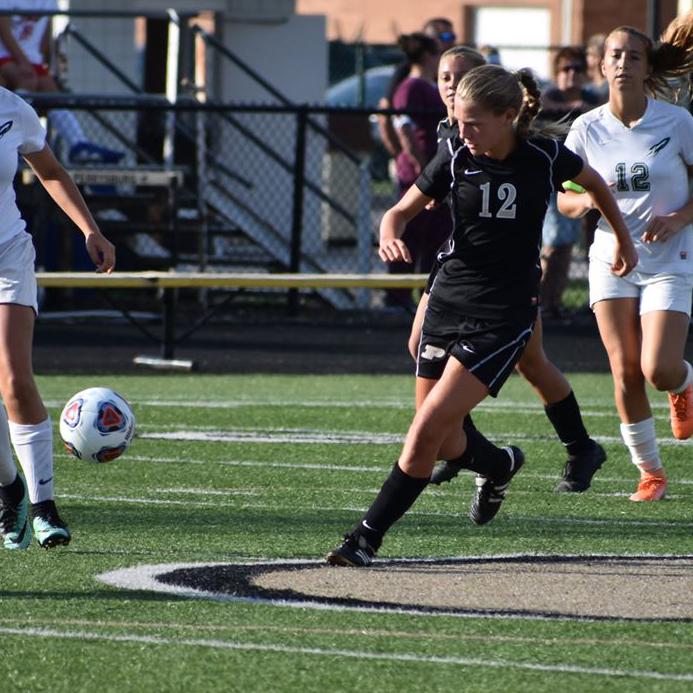 Elena Neceski
Status: Committed to University of Detroit Mercy
Class of 2023
Next Level U Statement
I am interested in continuing to learn and grow as a person, student and soccer player at a 4 year college or university. I am the proverbial heart of the team, playing, controlling and leading in the mid-field. I am the workhorse. I have great field vision and anticipate play development, both offensively and defensively. A threat with my head and both feet, I normally win nearly every ball I face in the air, and equally pass and shoot with both feet. I take most of our team corners and free kicks. I am also known for laying down great through balls and service for players to sprint onto, but also short, quick one and two touch passes and touches with nearby teammates. I am always willing to find an open lane and drive towards the goal, and to take a strike on goal when the opportunity arises, whether from 30 yards or 3 yards out. You will also see me battling and physically challenging the opposition for possession, whether in the air or on the ground.
Whether in person or on video, you will find me wearing jersey#16 for my travel club team, 2005 Greater Toledo Futbol Club (GTFC) Impact Premier, and #25 for my high school, Perrysburg High School, in Perrysburg, Ohio.  My club team plays in the USYS National League's Great Lakes Conference, Club v. Club Division, and my high school is division 1 in Ohio.
Contact this athlete
Academics
Currently open and considering different programs of study.
Country

United States

School Name

Perrysburg High School

School City

Ohio
Grad Year

2023
Athletics
Gender:
Female
Citizenship:
US and Canadian
Height:
5'7"
Weight:
132
References:
Mark Batman – GTFC Impact Premier (2005) Head Coach – Cell: (567) 674-4777 / Email: m-batman@onu.edu
Mike Aubry – GTFC Executive Director – Cell: (419) 297-1766 / Email: mike.a@greatertoledofc.org
Jorge Diaz – Perrysburg High School Head Coach – Cell: (419) 343-3399 / Email: pscimpact@yahoo.com
Dean Joseph – GTFC Director of Coaching, Girls Program – Cell: (601) 946-9928 Email: dean.j@greatertoledofc.org
Maddie Williams – Trainer/Mentor (Former Purdue U./Professional Player) – (419) 708-6364 / madison12.mw@gmail.com
Positions:
Attacking/Holding Midfield, Forward
Player Style:
Playmaker, Work Horse, Goal Scorer
Player Strengths:
Left and Right footed, Heading, Field Vision, Crossing, Passing, Speed.
Leadership:
U13-U15 Greater Toledo Futbol Club Appointed Team Leader. Team leadership training and classes provided by the club. We assist the team coach in addressing and problem solving for any issues that may arise during the course of the season.
Team History:
U11-U17 (2005) Greater Toledo Futbol Club Impact Premier Team (Current)
2020-2021 Perrysburg High School Varsity Team
2019 Perrysburg High School JV Team and Varsity Tournament Team
U10 ESSL Arsenal First Team
U8-U9 Perrysburg Soccer Club Gold (First) Team
Individual Accomplishments:
2018 – 2020 Olympic Development Program, Ohio North Youth Soccer Assn (Participant)
2021 – 2022 Olympic Development Program, Ohio Soccer Assn (Invitee)
2021 Northern Lakes League (High School League) – 2nd Team
2020 High School Soccer – Yellowjacket Award (Coaches Award) 
2020 Northern Lakes League (High School League) – 3rd Team
U13-U15 Greater Toledo Futbol Club – Appointed Team Leader
National Honors Society
Academic Honor Roll 6th Grade to 9th (Current) Grade
5th Grade Citizenship Award
Team Accomplishments:
2021 Ohio Northwest District 2 Semi-Finalists
2021 State Cup Finalist – GTFC Impact Premier (2005)
2020 Ohio Northwest District 2 Champions – Perrysburg High School
2020 Ohio Regional Semi-Finalists – Perrysburg High School
2020 Northern Lakes League Champions – Perrysburg High School
USYS National League, Great Lakes Conference – U15-U17 GTFC Impact Premier (2005) – Premier I and Club v. Club Divisions
USYS National League, Great Lakes Conference – U14 GTFC Impact Premier (2005) – Premier II Division
2019 Red Lion Invitational Tournament Champion (Top Division, U14)
2018 Red Lion Invitational Finalist (Top Division, U13)
2018 Ohio North State Cup U13 Quarterfinalist