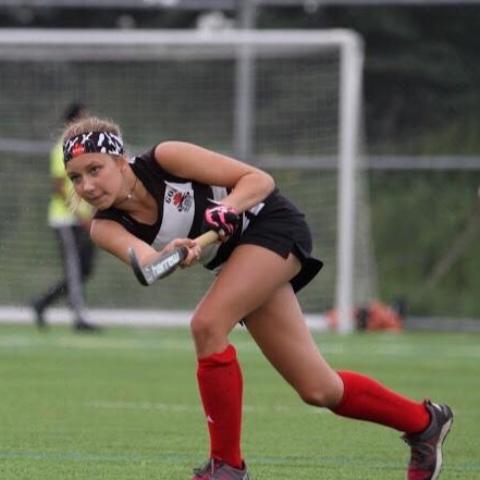 Emma Hillier
NCAA ID: n/a
Status: Committed to Western University
Class of 2021
Next Level U Statement
I am interested in playing field hockey at a 4 year institution, while obtaining a Public Health education. An asset to any team – contributes through leadership, skill, and knowledge of the game. A fearless defender that wins the ball and keeps possession. I am a dedicated team player who is highly coachable and a team player.
Contact this athlete
Academics
School Name

Resurrection Catholic

School City

Kitchener
Grad Year

2021
Athletics
Gender:
Female

Positions:
Defence/Back-Mid
Player Style:
Strong physical presence, natural leader
Player Strengths:
Hard consistent hits. Fast on the field and recovers well.
Leadership:
Ontario Summer Games West ~ Gold 2018 (Captain)
Team History:
GOA Reds
Resurrection Varsity Field Hockey (Starter in Grade 9 & 10)
Ontario National U16 West (Starter)
Ontario Summer Games West (Captain & Starter)
A&C High School Tournament Silver (Starter 2018)
Individual Accomplishments:
D8 All Conference All-Star (2019)
Resurrection Catholic Secondary School – Athlete of the Year (Grade 9 & Grade 10)
OFSAA WEST 4x100m Relay
Resurrection Catholic Secondary School – Athlete of the Week
Honour Roll Grade 9
Honour Roll Grade 8
Team Accomplishments:
May Meltdown U18 Bronze Medal 2019
May Meltdown U15 Bronze Medal 2019
U16 National West Silver Medal 2018
Ontario Summer Games Gold Medal 2018
D8 Resurrection Varsity Field Hockey Gold 2017
D8 Resurrection Swim Team over all Freshman Silver 2017/2018
District 8 Junior Swimming – Gold
CWOSAA Qualifer for all 4 events
D8 Resurrection 4×100 Silver 2018
CWOSAA Silver 4×100 2018
OFSAA West Qualifier 4×100
Ontario May Meltdown U14 Gold 2017
Ontario May Meltdown U16 Gold 2018
U14 WNY 2nd Annual Whalers Field Hockey Buffalo NY Gold