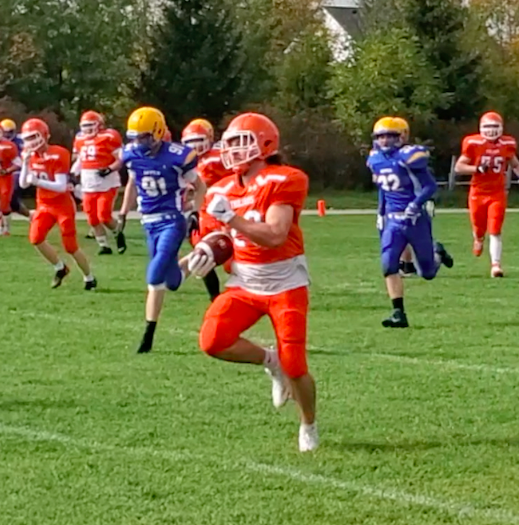 Isaac Cherewka
NCAA ID: 2111365850
U Sports ID: CSAA2DB64
Status: Committed to Dordt University
Class of 2022
Next Level U Statement
Hello,
My name is Isaac Cherewka. Thank you for taking the time to check out my profile.  My goal is to attend a four year program in the Canada or the USA, and compete with the best athletes I can while graduating with a degree in construction. I am committed to achieving success both for myself and my team. I work as hard on my academics as I do on my athletics.
Here are a few other things that you might find interesting about me.
First off, I am the only boy of seven kids. That's right; I have six sisters. I have two sisters that are older than me and four younger sisters. After my parents had the first four kids (I was number three), they knew they wanted more. An opportunity came up to adopt three sisters. They sat down with the family, and we all talked and agreed that it would be a fantastic opportunity to welcome them into our family. Our family went from four kids to seven kids overnight. It's been that way for the last six years. My youngest sisters are 7, 9, and 12 years of age.
For employment, I have started working in the construction industry. Because I want to go to school for architecture, I thought it would be a good idea to learn a little bit about the other side of the building industry. The knowledge I can take from my experience in demolition, drywall, roofing and other construction work in the last two years will also prove invaluable for my career.
My family has a strong belief in volunteering. For the last three summers, I have been a camp counselor up at our church camp. When it is not the summer, I volunteer to help out at a soup kitchen once a month. I help set and clear the tables and put away dishes. My time volunteering at the soup kitchen has taught me that it only takes a few mistakes to end up on the wrong side of the table.
I also love music. I started creating my playlist on my phone and, from there, moved into collecting vinyl records. Some would say my music taste is very eclectic. I like everything from early Blues right up to Drake. I also enjoy playing the guitar. Playing music has given me a new appreciation for the music I listen to day-to-day.
As for sports, I enjoy playing hockey, football, and running track (100m and 200m). I play rep hockey, football, and have represented my school in track at CWOSSA.
I have spent as much time focussing on my academics as I have on my athletics. I am enrolled in all academic / honour classes (Health science -Physics -English -Math (college tech) -Math (data management) -Architectural Design) and  have been an honour roll recipient for grade 9, 10, 11 and 12.
I hope to combine my athletic and academic abilities to go to an outstanding university in either Canada or the United States. I plan on focussing on construction / architecture in school.
Please let me know if there is anything else you need from me. I look forward to hearing from you.
Isaac
Contact this athlete
Academics
Architecture
Building Engineering
Construction Management
Country

Canada

School Name

North Park Collegiate

School City

Brantford
Grad Year

2022
Athletics
Gender:
Male
Citizenship:
Canadian
Height:
6'1
Weight:
205
References:
Coach Todd Andrews – North Park Collegiate – (519) 750-3978
Coach Norm Kelly – Brantford Bisons – (226) 922-7937
Coach Ian Smith – Personal coaching – (647) 922-7508
Positions:
Football –
Running Back,
Defensive Back
Specialty Teams
– https://youtu.be/YhzIah9PLTk?t=116
– https://youtu.be/zj8N-dOc6HI?t=1120
Player Style:
Football – It is a combination of FV+BM+GI+FT
FV – I have been working on my ball carrier vision for the last few years.  I used to be able to rely on my speed but as I face tougher opponents I needed to add FV to my strengths.
BM – Most of my carries have seen multiple yards after contact.  I have had numerous games with 200+ yards rushing.
GI – I have always been naturally fast but track and field enabled me to build in an extra step on my acceleration.
FT – I have focussed on strength training for the last year which has given me the extra strength needed to keep moving. I also worked in roofing for the summer to build up my leg strength as I was carrying 80lb bundles all day long.
Player Strengths:
Speed and strength
Speed – My PB for the 100m is 11 seconds.
Strength – My PB for my bench is 1 x 275/4 x 245
Combining my strength and my speed I am able to fight off attacks, find an opening and find my way to the end zone.
The video below will showcase me breaking a few tackles and running 85 yars to the end zone.
The video below will show me breaking a few tackles, staying on my feet and gaining 25 yards.
The video below I run up the middle and identify holes I can go through, I make a few cuts and use my speed to run 50 yards to the end zone.
Leadership:
North Park Trojans Jr and Sr Captain
Team History:
Brantford Bisons JV 2018, 2019
North Park Trojan Football Jr 2017, 2018
North Park Trojan Football Sr 2019, 2021
Brantford 99ers Bantam / Midget Hockey AA – 2018, 2019
Brantford 99ers Midget AAA – 2019, 2020, 2021
North Park Trojan Varsity Hockey – 2018, 2019, 2020
Individual Accomplishments:
North Park – Football offensive MVP 9, 10, 11, 12
Offensive Player of Year JV – Brantford Bisons
Honour Roll – Grade 9, 10, 11, 12
Valedictorian – Grade 8
Male Athlete – Grade 8
Team Accomplishments:
North Park Jr Football City Champions – 2018
Midget AAA Alliance Champions – 2019
Stats:
2017 Rushing Yards (North Park Trojans) – 829yds
2018 Rushing Yards (North Park Trojans) – 1200yds
2019 Rushing Yards Brantford Bisons – 1500yds
Video Intro
Here is a game highlight reel from this year.  I got 3 touchdowns and had 300 yards carrying the ball.
Highlight Video
Here is a highlight reel from this season (2021). This is the first four games.