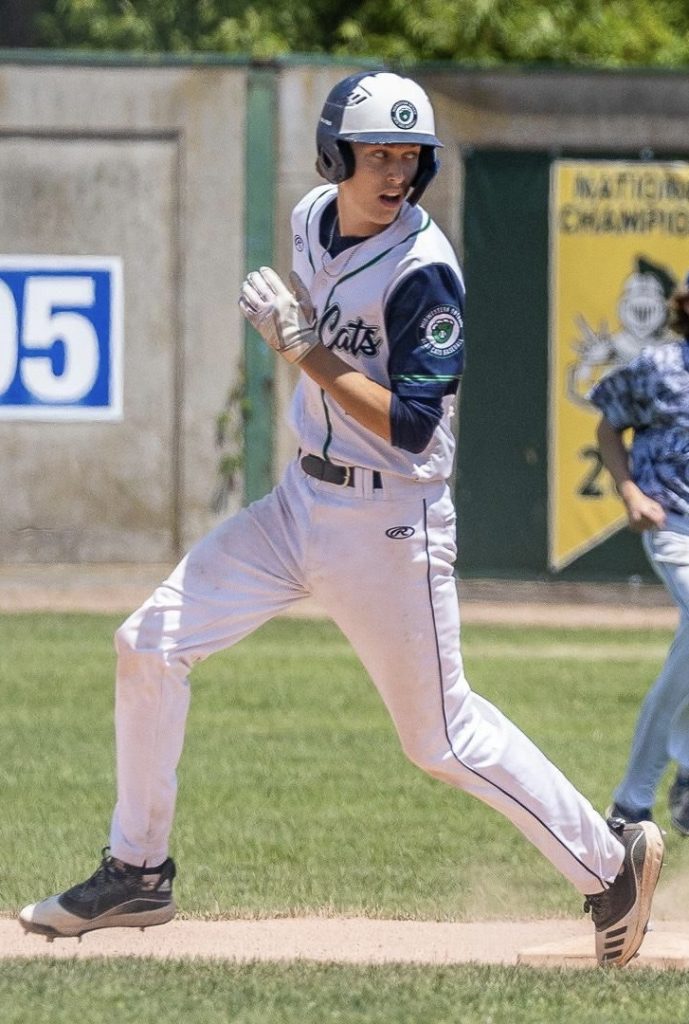 Jackson Campbell
NCAA ID: 2203484407
Status: Uncommitted
Class of 2024
Next Level U Statement
I am interested in pursuing a rewarding academic education and sporting career at a 4 year institution.  I am a strong, committed, dedicated leader on and off the field.  Being a dynamic versatile utility baseball player allows me to be a valued asset to my team.
Contact this athlete
Academics
Kinesiology, Engineering, Education
Country

Canada

School Name

St Michaels Catholic Secondary School

School City

Stratford
Grad Year

2024
Athletics
Dedicated and committed student and multi-sport athlete striving to excel at an elite level in pursuit of a rewarding academic and sporting career.
Gender:
Male
Citizenship:
Canadian
Height:
6' 1"
Weight:
145 lbs
References:
Brian Hawley (Field Manager, Baseball Coach)
Aby Valdez (Trainer)
Mike Knechtel (Hockey Coach)
Mark Taylor (Hockey Coach)
Team Name:
MIDWESTERN ONTARIO BEAR CATS BASEBALL CLUB
Positions:
Catcher, CF, Utility
Player Style:
Committed, Confident, Competitive.
Team Leader on and off the field.
Player Strengths:
Consistent contact hitter and aggressive base runner
Defensively responsible
A strong arm
Speed in the field
Ability to track hit balls
Leadership:
2021-2022  U16 Stratford Warriors (A)
2021-2022 Jr. Boys Highschool Volleyball (A)
2021 – Stratford Nationals Tier1 (A)
2020-2021  U15 Stratford Warriors (A)
2019-2020 U14 Statford Warriors (A)
Team History:
Midwestern Ontario Bearcats Elite 16U – 2021-2022 – Present  – Premier Baseball League of Ontario (PBLO)
St. Michael CSS, Varsity Baseball – 2022
Stratford Nationals 15U Tier 1 – 2021
Waterloo Tigers – 14U -2020
Stratford Nationals  13U Tier 1 -2019
Stratford Nationals 12U Tier 1 – 2018
Other Info:
Multi Sport Athlete,
2020-2022
Baseball, A/AA Hockey, Highschool Baseball (Varsity), Volleyball (Jr) , Basketball (Jr) , Track and Field (Jr)
2018-2022
Baseball, A/AA Hockey, Soccer, Volleyball, Basketball, Track and Field, 2-Pitch, Cross-Country
Individual Accomplishments:
Academic Achievements
St. Michael Catholic Secondary School
2021- 2022 Honour Roll (Grade 10)
2020-2021 Honour Roll (Grade 9)
St. Aloysius Catholic School
2020 Citizenship Award (Grade 8)
2020 Honour Roll (Grade 8)
Athletic Achievements
2022 – The Ken Salt Memorial Award  – (Stratford Minor Hockey Association)  U16 player who most exemplifies perseverance and hard work in all aspects, on and off the ice
2022 – Junior Male Athlete – Billy Moffett Award (St. Michael C.S.S.)
2022 – Sportsmanship Award –  Jr. Boys Track and Field (St. Michael C.S.S.)
2022 – Most Improved Award  –  Jr. Boys Volleyball (St. Michael C.S.S.)
2022 – Track and Field  Jr. Boys Discus  (40.95m)
WOSSAA – Gold
Huron-Perth – Gold   
Forest City Invitational – Gold
Track Wars – Gold 
2022 – Track and Field  Jr. Boys Javelin (38.06m)
WOSSAA – Bronze
Huron-Perth – Silver
Forest City Invitational – Bronze
Track Wars – Bronze 
2020 Outstanding Male Athlete (Grade 8)
2019 Cross-Country – Sr. Boys – Pat Cook Run 3rd, and System Track Meet 3rd
2018 Most Improved Player (Stratford Minor Baseball Association)
2016-2017 Most Dedicated Player (Stratford Minor Hockey Association)
Team Accomplishments:
2022 Jr. Boys Team Track and Field, WOSSAA – Gold
2022 Boys Overall Team Track and Field Huron-Perth – Gold
2021-2022 U16 A/AA Alliance Hockey Championship Finalists – Silver Medal
2021 U16 St. Thomas Boston Cup  Tournament – Silver Medal
2021 Jr. Boys St. Michaels Volleyball Huron-Perth Champions – Gold Medal
2018-2019 , (SMHA Hockey)  Ottawa Bell Capital Cup Tournament- Silver Medal and  West London Bryon Hawkes Tournament -Gold Medal
2019 – Stratford Nationals (SMBA Baseball) Saugeen Shores Tournament – Gold Medal