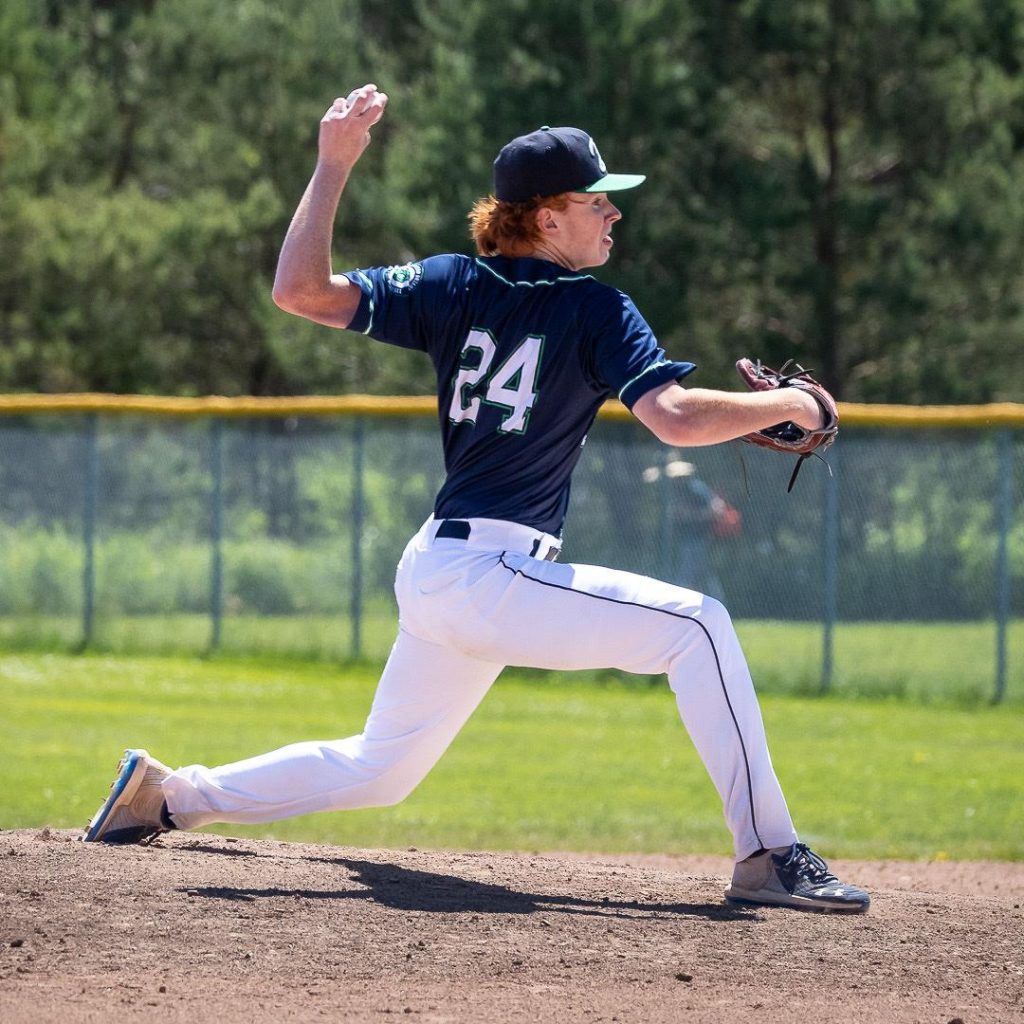 Jacob Morgan
NCAA ID: 2112399374
Status: Uncommitted
Class of 2024
Next Level U Statement
Interested in continuing to progress my baseball career while pursuing post secondary education, ideally at a 4 year institution. A quiet leader and team player who works hard on and off the field to continue to raise my game.
Contact this athlete
Academics
Kinesiology
Biomedical sciences
Country

Canada

School Name

Bishop Macdonell Catholic High School

School City

Guelph
Grad Year

2024
Athletics
My baseball journey started at the age of 3 and has never looked back. My love of the game pushed me to pursue rep baseball where I represented Guelph Minor Baseball (GMBA) for 6 years (8U-13U) and Kitchener Minor Baseball (KMBA) Elite for 2 years (14U-15U) to my present experience with the Midwestern Ontario Bearcats. I am also an avid fan of the game and watch baseball at all levels to continue to study and learn the game.
Outside of baseball, I have played hockey, volleyball, basketball, badminton and soccer and continue to play high school volleyball in the off-season.
Gender:
Male
Citizenship:
Canadian
Height:
6' 2"
Weight:
190
References:
Andrew Karkoulas, Owner/Instructor, PPA Hithouse
Positions:
LHP, 1B
Player Style:
Quiet, unassuming player focused on getting a job done
Competitive player who has learned to find another gear in high pressure situations
Coachable with a high baseball IQ
Player Strengths:
Ability to locate pitches with a solid 4-pitch repertoire
Smooth, athletic delivery
A selective hitter with ability to hit for contact and power
Team History:
8U – 13U Guelph Royals Rep
2020 14U Kitchener Panthers Elite
2021 15U Kitchener Panthers Elite
2022 16U Midwestern Ontario Bearcats Elite
2023 18U Midwestern Ontario Bearcats Elite
2024 18U Ontario Nationals
Other Info:
Volunteer/work experience
2022 PPA Hithouse March Break Camp volunteer instructor
2022-23 Bearcats Fundamentals Clinics instructor
2023 Bishop Macdonell Link Crew (senior student volunteer for Gr 9 orientation)
Individual Accomplishments:
Academic Achievements
Bishop Macdonell  Catholic High School
2020-21 Celtic Appreciation Award for contribution to the school community
2020-21 Honour Roll (Grade 9)
2021-22 Honour Roll (Grade 10)
2022-23 Honour Roll (Grade 11)
Mary Phelan Catholic School
Grade 8 Best All Around Student Award
Grade 8 Academic Excellence Award
Grade 8 Honour Roll
2019 STEM team
Athletic Achievements
Elite Baseball
Named to the 2022 PBLO West All Star team as pitcher and first baseman
2022 18U Muskoka Cup – co-Player of the Game (Round Robin Game 1); Player of the Game (Semi-final game)
Rep Baseball
2018 GMBA Junior Player of the Year nominee
Various Player of the Game awards pre 14U, including two time Player of the Game at the 2018 Cal Ripken Experience in Aberdeen, MD
Bishop Macdonell Catholic High School
2021 Junior Boys Volleyball
2022 Senior Boys Volleyball
2023 Senior Boys Volleyball
2022 Varsity Boys Baseball
2023 Varsity Boys Baseball
2023 Varsity Co-ed Beach Volleyball
2022-23 Varsity Baseball Impact Award
Mary Phelan Catholic School
2019-2020 School year – member of Boys Soccer team, Boys Basketball team, Boys Volleyball team and Badminton team
2018-19 School year – member of Boys Soccer team, Boys Basketball team, Boys Volleyball team and Boys 3-pitch team
Team Accomplishments:
2022 Midwestern Ontario Bearcats
16U Ontario Provincial AAA Championship Semifinalists
18U London & District Baseball Association Semifinalist
18U Muskoka Cup Semifinalists
Stats:
2021 Season Pitching stats (COVID shortened season) – 5-0 record in 5 starts; 23 IP, 9 H, 4 R, 1 ER, 40 K, 10 BB, 0.30 ERA
2022 NLU/Bearcats Combine
Fastball velo – 76 mph
Change up velo – 68 mph
Slider velo – 63 mph
Infield throwing velo – 78 mph
Batting exit velo – 75 mph
60 yd dash – 7.9 s
2022 Season stats
Pitching
5-6 record in 15 starts; 62.2 IP; 37 H, 29 R, 22 ER, 90 K (27 K-L). 50 BB, 2.457 ERA, 1.388 WHIP, 59 LOB, 0.171 BAA
Led the team in innings pitched, strikeouts, and strikeouts looking; led all starters (and second among all pitchers) in ERA, WHIP, and BAA
Hitting and Fielding
0.263 avg in 95 at bats with a 0.421 OBP and a 0.757 OPS; 25 H (including 5 doubles and 1 triple), 23 RBI, 27 BB
0.961 FPCT in 179 chances with  7 E