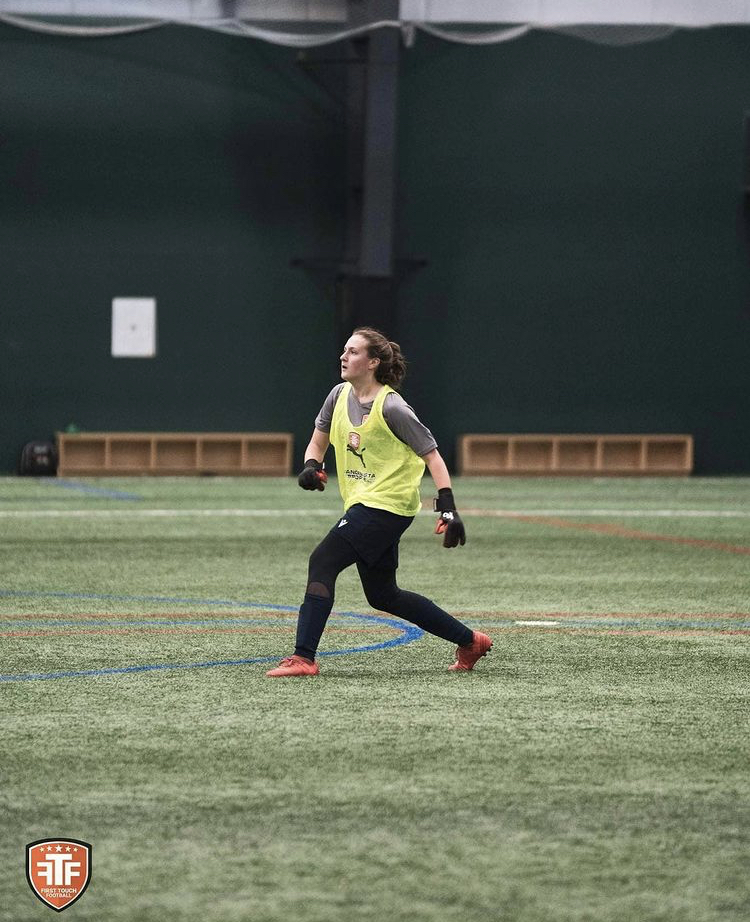 Jessie Spurrell
NCAA ID: 2202431062
Status: Committed to Simon Fraser University
Class of 2023
Next Level U Statement
Interested in playing soccer whilst pursuing a degree in Psychology, Cognitive Sciences or Biopsychology. A vocal and intelligent goalkeeper who possesses a high soccer IQ and a high drive to succeed. A natural-born leader who takes command of the field and the 18 yard box. A highly effective sweeper-keeper, confident shot stopper, and very comfortable with the ball on my feet.
Contact this athlete
Academics
My programs of interest are: Cognitive Science, Biopsychology, or Psychology.
Country

Canada

School Name

Ross Sheppard Composite High School

School City

Edmonton
Grad Year

2023
Athletics
I'm a hardworking, determined, and ambitious person and goalkeeper. I have a high soccer IQ, and I love to watch game film, professional and my own, and analyze and break down different tactics and techniques that I can transfer into my own game. I was born and raised in Edmonton, Alberta. I've played for Scottish United for 6 years (U10-present). I am currently a goalkeeper for the Whitecaps FC Edmonton Academy (REX/Regional Excellence Program), I was a part of Edmonton Scottish Angels CNL startup semi-pro team this summer (June-August 2021) and trained with former NCAA Div. 1 players, former national team players, and current USport players. Unfortunately our season was severely impacted by COVID-19, and we only played one game. However, we trained throughout the whole summer. I was Player of the Match and Starting 11 (Overall) Goalkeeper at the FTF Calgary Combine (Oct. 2021), Scottish Angels Premier League starting goalkeeper (League Champions, Aug. 2021), have "trialisted" and trained with Scottish United Major League (2020-present), Scottish United U15 Bronze Medallist in Caledonia Cup (Nov. 2019), Silver medallist in the Dugan tournament (August 2019) Scottish United U17 Bronze medallist in the Caledonia Cup (Nov. 2021) Invited to the All-Stars Montreal FTF x Sports Ambitions showcase in March 2022, ranked #14 overall in FTF Canada's Class of 2023 rankings (2021), and was the highest ranked goalkeeper in those same rankings.
Gender:
Female
Citizenship:
Canadian
Height:
5'9"
Weight:
150
References:
Rick Haxby (Coach)-rickhxb6@gmail.com
Andrea Hunt (Coach)-andhunt505@gmail.com
Shaelan Donovan (Coach)-shaelandonovan@icloud.com
Dylon Powley (Goalkeeper Coach)- pkgoalkeeping@hotmail.com
Positions:
Goalkeeper
Player Style:
Game-changing Goalkeeper
Player Strengths:
Communication and Leadership, High Soccer IQ, Physicality, Fitness, Decision making, Distribution.
Every time I take the pitch, I strive to be better than I was the day before. I always want to improve, and I'm constantly working on becoming the best goalkeeper I can be.
Leadership:
No.
Team History:
Scottish United Soccer Club
u10-u17T1 first year (Donovan)
u17T1 second year (Hunt)
Trialist for Premier team (Haxby) and Major League (Poissant)
Ross Sheppard High School
Varsity volleyball 2020 season (pandemic restricted)
Whitecaps FC Edmonton Regional Excellence Program (REX)
Kristyn Shapka, 2021-2022
Individual Accomplishments:
Holy Cross Académie Internationale (Athletics)
Holy Cross Académie Internationale (Academics)
Academic Honours 2018, 2019
Academic Honours with Distinction 2020
IB MYP (Middle Years Programme) French Immersion Graduation Certificate
Ross Sheppard Composite High School (Academics)
Honours with Distinction 2021
Club team/Scottish United (Athletics)
Multiple tournament POTM awards 2018-2021
FTF (First Touch Football) Combine (2021)
Ranked #14 overall in 2021 FTF All-Canadian Rankings (2005 players)
Top ranked goalkeeper
POTM in Calgary, Alberta Combine
Starting XI Goalkeeper in Calgary, Alberta Combine
Invited to FTF x Sports Ambitions All-Star Combine in Montreal, Quebec (proposed dates: March 26, 27 2022)
Team Accomplishments:
Scottish United u13-present:
Caledonia Cup Bronze Medallists (2019)
Duggan Tournament Silver Medallists (2019)
 Caledonia Cup Bronze Medallists (2021)
Other sports:
Basketball Division 4 City Champions (2018)
Basketball Division 1 City Champions (2019)
Highlight Video
Jessie Spurrell Highlight Video (2021)