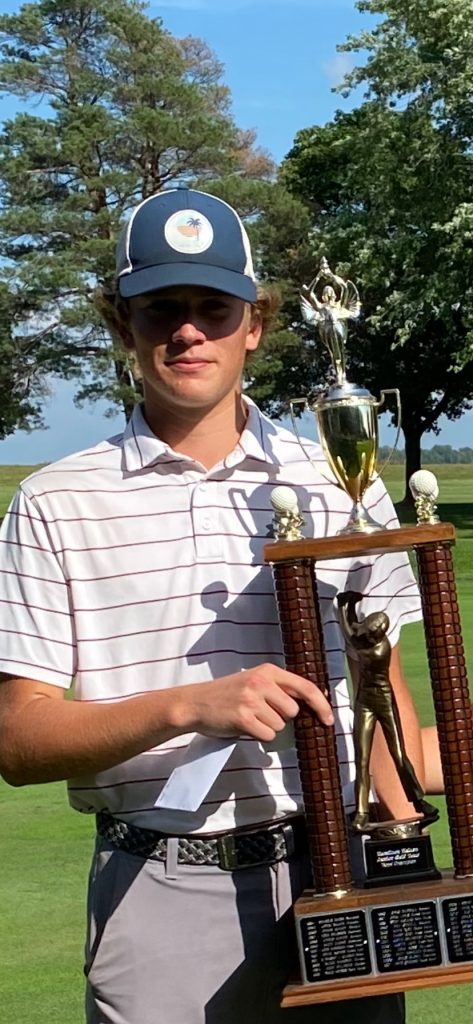 John Orlebar
Status: Committed to Fanshawe College
Class of 2022
Next Level U Statement
I am genuinely excited to have an opportunity to play competitive golf while studying at an American or Canadian University/ College.  I have academic interests in Environmental Studies including Forestry, Conservation and Geography. I am also interested in other fields of study including the pursuit of a Skilled Trade such as Electrical, Carpentry, Plumbing or HVAC.
I possess a strong work ethic and I am a practical thinker. I enjoy both physically and intellectually engaging work and activities.
I would be an asset to any competitive golf team. I especially enjoy the camaraderie and responsibility that comes with being part of any team. I maintain a respectful demeanour, and pride myself in always having a good sense of humour.
Contact this athlete
Academics
Technical and Skilled Trade Programs- Electrical, Plumbing, Carpentry and HVAC
Environmental Studies and Geography
Forestry, and Conservation
Powerline technician
Country

Canada

School Name

East Elgin Secondary School

School City

Aylmer, ON
Grad Year

2022
Athletics
Gender:
Male
Citizenship:
Canadian
Height:
6'3"/190.5cm
Weight:
178lbs/82kgs
References:
Coach: Dave Schweyer, CPGA Professional, Greenhills Golf Club (519)-280-7257
Coach/Teacher: Marie Fitzgerald, East Elgin Secondary School (519)-872-5161
Player Style:
I am a feel player, who is able to easily adapt to different courses, and weather conditions. I have learned to play on a very difficult links style course (Tarandowah) which has allowed me to adjust my game effectively, particularly in windy conditions.
I play with confidence and fight hard physically and mentally to regain strokes while under pressure. I am able to recognize when I need to play conservatively or take a calculated risk to win.
Player Strengths:
I have significant mental and physical strengths that have enabled me to have success as a Junior Golfer.
On the mental side, I play with confidence with a strong focus on winning. I am successful at maintaining a calm mind under pressure. In addition, I have a great deal of respect for the game and my fellow competitors.
I am known to be mentally tough when competing. I enjoy the challenge of playing with elite players and I perform exceptionally well when the tournament is on the line.
Physically, I have a powerful, flexible build and I am able to generate very significant club speed. I also take pride in my accuracy and consistency. Fortunately, I am also equipped with a very strong short game. Getting up and down under pressure is a skill that I take great pride in.
My continued dedication to strength, flexibility and overall fitness will contribute to my future success in the game of golf.
Leadership:
Currently enrolled in an Environmental Leadership Program. This program has allowed me to show leadership with my fellow students particularly with physically challenging activities like survival camping, portaging and rock climbing.
Team History:
Golf:
East Elgin High School Golf team
Hamilton Halton Junior Golf Tour Humber Cup Representative
Other Sports:
Competitive Hockey, Competitive Baseball, High School Badminton, Swimming, and  Soccer teams.
Other Info:
I enjoy the outdoors, including camping, fishing and motocross. I spend quality time with my family and friends. When I am not golfing, I am often found in the garage doing car maintenance and restoration of older motocross bikes. I have maintained part-time employment from a young age, including retail, food service and golf course maintenance from age 12 to current.
Individual Accomplishments:
Golf Accomplishments:
Year 2022 Events:
Maple Leaf Junior Golf Tour 
Tarandowah- May 28th and 29th, 2022: 2nd (73, 80)
Rebel Creek- June 11th and 12th, 2022:
Grey Silo – July 23rd and 24th, 2022: (76,82)
Tyson Tour
• St. Thomas- Aug 4th, 2022: 1st (71)
• Fanshawe- July 25th, 2022: 1st (72)
• West Haven- July 11th, 2022: 1st (72)
Tarandowah Club Championship
August 27th and 28th, 2022:
Year 2021:
Maple Leaf Junior Golf Tour
Tarandowah: 1st (71,81)
Rebel Creek: 2nd (77,78)
Grey Silo: 4th (82,75)
Hamilton Halton Junior Golf Tour – Overall JUNIOR CHAMPION
Individual Tournament Results:
Flamborough Hills G&CC: 2nd (79)
Port Dover GC: T9th (82)
King's Forest GC: 3rd (78)
Lowville GC: 3rd (74)
Southern Pines G&CC: T5th (67)
Year 2019:
Tyson Tour – Overall JUVENILE CHAMPION (Winning 5 of 6 Events)
Tarandowah – 1st (69)
Highland G&CC – 1st (69)
Thomas G&CC – T2 (79)
Greenhills G&CC – 1st (73)
River Road – 1st (74)
Sunningdale G&CC – 1st (74)
Maple Leaf Junior Golf Tour
Year 2018:
Hamilton Halton Junior Golf Tour – Overall BANTAM CHAMPION
(Winning 5 of 6 Events)
Maple Leaf Junior Golf Tour
Highschool Athletics:
Thomas G&CC – TVRA A Flight Champion (74) as a Grade 9 (Freshman)
Tyson Tour – Bantam Division
Tarandowah – 6th (80)
Ingersoll – 2nd (81)
Highland – 1st (77)
Dorchester – T5 (67)
Greenhills – 7th (81)
Sunningdale – 6th (87)
Academic Accomplishments:
Honour Roll Student 2018 & 2019
Ontario Scholar 2021
Team Accomplishments:
East Elgin Secondary School – Thames Valley Regional School Board Champions- 2018 & 2019
Club Distances:
Driver: 300 yds
3 Wood: 270 yds
3 Iron: 240 yds
4 Iron: 230 yds
5 Iron: 210 yds
6 Iron: 200 yds
7 Iron: 185 yds
8 Iron: 175 yds
9 Iron: 165 yds
Pitching Wedge: 160 yds
Gap Wedge: 140 yds
Sand Wedge: 115 yds
Lob Wedge: 100 yds
Tournament Low Scores:
As above.
Team Events Results:
May 28th/ 29th, 2022 - Maple Leaf Junior Tour. Second Place finish (73, 80)
Stats:
Handicap:
1.4 handicap.
Video Intro
John Orlebar Golf Recruitment Video.
Highlight Video
John Orlebar Golf Recruitment Video