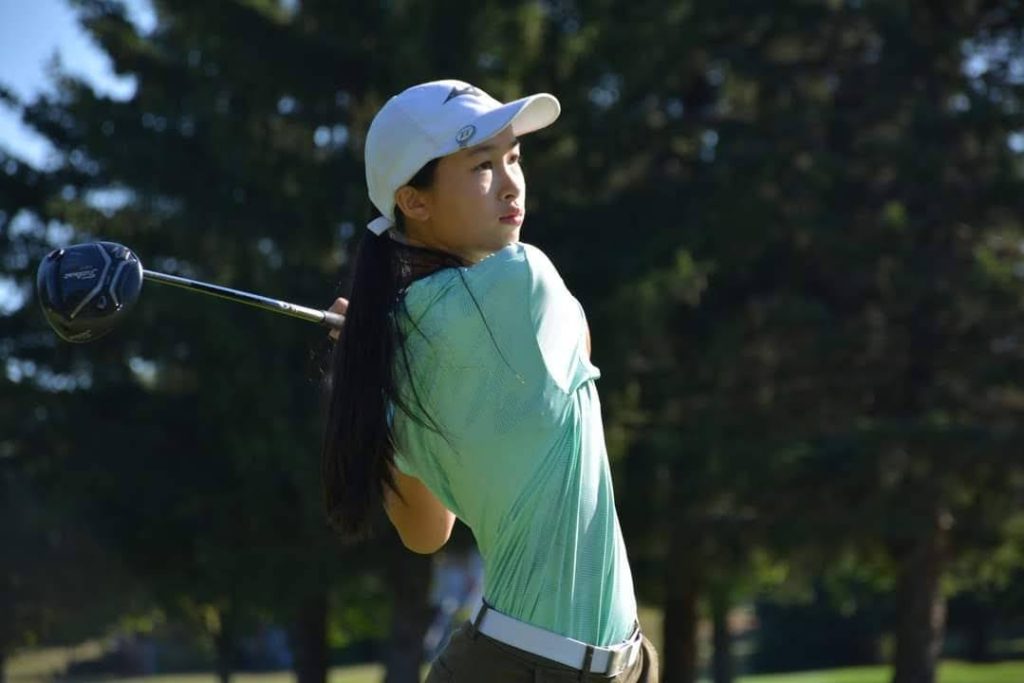 Joline Truong
NCAA ID: 2202439725
Status: Uncommitted
Class of 2024
Next Level U Statement
I am interested in attending a reputable 4-year institution and being part of the women's golf team while pursuing a business degree. I am a focused and quick learner with the goal of  bringing my game to the next level.  I am confident that with the knowledge and accomplishments I have gained so far and the commitment I have in the game of golf, I can be an asset to any golf team.
Contact this athlete
Academics
I am interested in the business program majoring in either Accounting, Finance or Management Information Systems.
Country

Canada

School Name

John Fraser Secondary School

School City

Mississauga
Grad Year

2024
Athletics
Hello! My name is Joline Truong.  I am a Junior student in the AP program at John Fraser Secondary School in Mississauga, Ontario.  I aspire to attend a reputable college/university offering high-quality education, particularly in the business program, while also being able to play as part of the women's golf team.
I started loving the game of golf when my dad introduced it to me at the age of 10. I started competing at 13 years old and that same year, I was invited to play the US Kids World Teen Championship.  My first proud moment in my competitive golf journey.
One of the best aspects of golf is the time I get to spend with my family. My dad, also my coach, has been my biggest supporter throughout the years, while my mom has always made sure we were always ready to get on the road. I have fun playing with my siblings out on the course and like the challenge of beating my personal low score.
Through the highs and lows of my golf journey, I have become more resilient, learnt to manage my emotions and be patient, especially after a bad shot or round.  I am committed to taking my game to the next level.  My friends and family know where to find me when I'm not at home; the golf course is my second home.
When I am not practicing or playing golf, I keep myself busy with other interests.  I tutor elementary and middle schoolers in Math, English and French.  Since 2020, my friends and I have been organizing campaigns such as fundraising for the food bank and homeless shelters in our local community.  I love to ski, skate and swim. I also really enjoy travelling and going camping with my family.
I want to be a part of a school and women's golf team to leave a legacy both inside the classroom and out on the golf course.
Gender:
Female
Citizenship:
Canadian
Height:
5' 6''
Weight:
127 lbs
References:
Bradlee Ryall –
Email: ryall@bradleeryall.com
IG: bradleeryall
Individual Accomplishments:
2023 Results:
Orlando International Women's Am  74-76-MC
2022 Results:
T29 – Dixie Women's Amateur  77-71-69-76 (+9)
4 – AJGA Billy Horschel Junior Championship  73-73-71 (+1)
2 – AJGA UHY Albany Junior Open   72-69-68 (-1)
T3 – AJGA Randy Wise Junior Open  70-72-76 (+2)
T9 – AJGA Coca-Cola Junior Open  78-72-86 (+20)
T34 – Canadian Junior Girls  73-76-82-74 (+17)
66 – Canadian Women's Amateur  77-79-86-80 (+30)
5 – Ontario Junior Girls   76-73-76-74 (+11)
T5 – Ontario Women's Am and Mid-Am  73-72-80-66 (+3)
T12 – Qualifier: US Women's Amateur  82 (+10)
T10 – Qualifier: US Junior Girls  76 (+5)
Rnd of 16 – Ontario Women's Match Play
8 – Ontario NextGen  77-79-81 (+21)
4 – Ontario Junior Spring Classic  77-76-68 (+5)
2 – HJGT Ontario Kickoff at Lionhead  73-73 (+2)
T19 – AJGA Taylor Made TP5 Junior All-Star  77-71-77 (+9)
T13 – AJGA VisitFayettevilleNC.com Preview  87-76 (+19)
2021 Results:
T5th – Golf Ontario Provincial Super Camp  72-71-74 (+4)
Rnd of 16 – Golf Ontario Junior (U19) Girls Match Play
30th – DCM PGA Women's Championship  82-85 (+23)
WON – Golf Ontario Juvenile Girls Championship  68-71-70 (-7)
T12th – Golf Ontario Women's Am & Mid-Am  74-70-75-76 (+7)
WON – CJGA Mizuno National Junior Girls  74-72 (+2)
T23rd – Golf Ontario Junior (U19) Girls Championship  90-74-77-77 (+30)
3rd – MJT TaylorMade Junior Championship  76-75 (+9)
2nd – CJGA PING Junior Girls Match Play
2020 Results:
T36th – Golf Ontario Junior Girls (U19) Championship  80-76-83-76 (+27)
T42 – Golf Ontario Women's Am & Mid-Am  77-75-77-82 (+26)
T14 – Golf Ontario Bantam Girls (U15) Championship  83-75 (+14)
10th – MJT Freedom 55 Financial (U19)  79-88 (+23)
6th – MJT Humber College PGM Classic (U15)  82-84 (+24)
2019 Results:
2nd – CJGA Mizuno National (U15) Championship  78-78-84-83
T8th – Golf Ontario Bantam (U15) Girls Championship  80-73
33rd – US Kids Teen World Championship  92-86-79
40th – Golf Ontario Junior Girls Championship  87-82-112-97
2nd – CJGA US Kids Teen World Championship Qualifier  104-83
Academic Achievements:
Honour Roll (2017-recent)
Learning Skills Award (2017-2021)
Club Distances:
Driver: 250 yd (total)
3-wood: 210 yd
5-wood: 195
4-iron: 180
5-iron: 170 yd
6-iron: 160 yd
7-iron: 150 yd
8-iron: 140 yd
9-iron: 130 yd
PW: 120 yd
Tournament Low Scores:
66 (-6)
Stats:
HDCP:+0.4