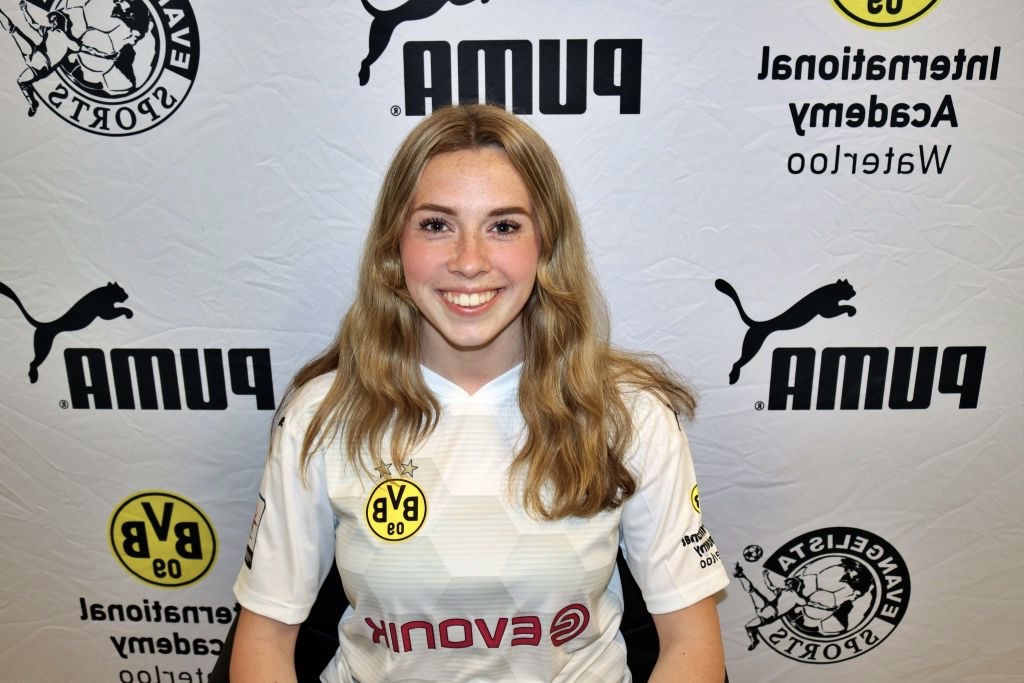 Jossalyn Downey
NCAA ID: 2112400579
Status: Committed to Saint Mary's University
Class of 2023
Next Level U Statement
My goal is to play university level soccer while obtaining a degree in Health Science, Biochemistry or Biology.  An aggressive and smart Defender with excellent vision on the field to join or create attacks while maintaining focus of defensive duties.  Brave with the ball, ability to outrun opponents, possess excellent endurance, strength and agility, and quality on the ball with both feet.  An asset to any team, multi-positional player who can play both sides of the pitch and lead through knowledge and love of the game.
Contact this athlete
Academics
Health Science
Biochemistry
Biology
Chemistry
Country

Canada

School Name

Kitchener Collegiate Institute

School City

Kitchener
Grad Year

2023
Athletics
Currently playing for BVB International Academy Waterloo Women's League One Ontario Reserves.  I am a call-up for the Women's League One Premiere team. My goal is to play high level soccer with the assistance of an athletic scholarship at the University level while attaining a degree with an academic scholarship. Played soccer for over ten years with Waterloo Minor Soccer Club. Played Rep Soccer (one age group older due to recognition of skill) for three years followed by OPDL (Ontario Player Development League) for three more years. (See dates in Team History).
Gender:
Female
Citizenship:
Canadian
Height:
5'5"
Weight:
135 lb
References:
Adolfo Plaza (Current Coach)
Becky Sanzsole (Current Coach)
Sam Gevaux (OPDL Coach)
Positions:
Primary Position: Full Back
Secondary Position: Centre Back
Proficient at Mid Field, Wing, Striker
Player Style:
Playmaker and Backbone Defender
Player Strengths:
Fearless, fast, explosive, strong tackler, technical skill, great passing, crossing and shooting, excellent vision on the field, quick and smart decision-making and strong use of both feet,
Leadership:
2022 – BVB International Academy Coach (for youth soccer)
2019-2020 – Waterloo Minor Soccer Leadership Academy
2019 – Waterloo Minor Soccer Summer Camp Coach
Team History:
2021-2022 – BVB International Academy Waterloo Women's League One Ontario Reserves
2020-2021 – Waterloo United U17 OPDL (Ontario Player Development League)
2019-2020 – Waterloo United U15 OPDL
2018-2019 – Waterloo United U14 OPDL
2015-2018 – Waterloo United Rep (Played up an age group for 3 years due to recognition of skill)
2009-2015 – Waterloo Minor Soccer Club
Individual Accomplishments:
2019 & 2022 – School Soccer Team Captain (2020-2021 Covid19)
2019 – Soccer Referee Certification
2018 – Leadership and Perseverance Award
2016 – MVP Ancaster Heritage Days Soccer Tournament
2016 – Track and Field 80 m, 100 m, High Jump Champion
Honour Role – Grades 9, 10, 11
Over 80 Volunteer Hours with Waterloo Minor Soccer Club
Multiple MVP Awards for Soccer and Hockey
Multi-Sport Athlete accomplished in Hockey, Wrestling, Gymnastics, Volleyball, Basketball
Team Accomplishments:
2019 – Umbro Top Rated Super Cup Tournament Champions
2019 – School Basketball Champions
2019 – School Soccer Champions
2018 – Waterloo County Regional Relay Team Winner and Record Breaker
2018 – Waterloo County Divisional Relay Team Winner
2018 – Waterloo Ravens Hockey Provincial Silver Medalists