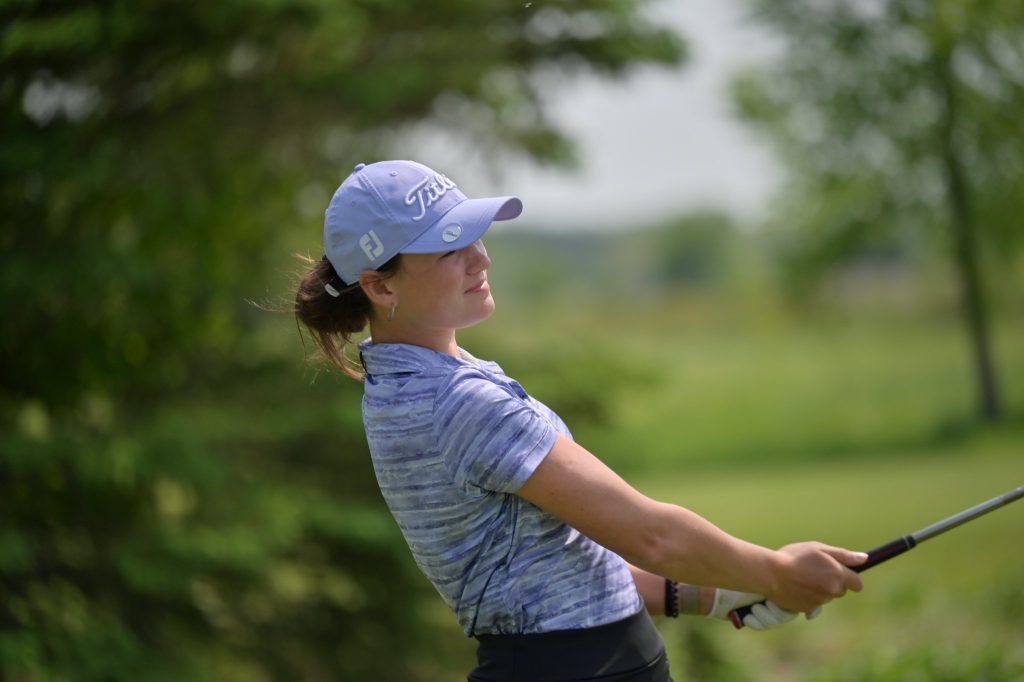 Karolyn Rombouts
NCAA ID: 2001780115
Status: Uncommitted
Class of 2023
Next Level U Statement
My goal is to play golf at a 4 year institution where I will be able to continue to develop my golf game, earn a business degree and have a chance at playing professional golf.
Contact this athlete
Academics
Business Degree – Marketing
Country

Canada

School Name

Holy Cross Catholic Secondary School

School City

Strathroy
Grad Year

2023
Athletics
For as long as I can remember I was active in one sport or another. Before I started to play golf,  I was a competitive figure skater, ran track and field as well as cross country. I completed all the Gold level tests in the Canadian Figure Skating Association and competed Ontario wide in both Track and field and Cross Country.  I picked up my first golf club in 2017 when I was 13 years old. After making a hole in one on my home course in the fall of my first year I quickly realized that I love the game of golf. With the all hard work and discipline needed to be competitive in my previous sports transferring to golf was natural. I competed in my first golf tournament in 2018. This was a difficult but a great year of learning. I have since found a dedicated golf coach to work on my swing and a TPI trained personal trainer to develop the muscles need for a strong golf swing.  Over the past couple years I have brought my golf game to a highly competitive scoring average and will continue to improve upon that scoring average into my college career.
Gender:
Female
Citizenship:
Canadian
Height:
5'10"
Weight:
140lbs
References:
Coach: Mark Elliott
Personal Trainer: Brent Mckenzie
Player Style:
I am a dedicated and focused athlete who puts in the practice time and workout time needed to improve my golf game.
Player Strengths:
My player strengths are strong work ethic, very coachable and great ball striking skills. I have a 99+ MPH driver swing speed and strong iron shots to help with potential birdie holes. I would be a team member who can contribute through leadership, skill and knowledge of the game.
Leadership:
HCC Student Council 2020-2021 – Female Athletics Chair
HCC Golf Award 2019 – advancing to OFSSA golf
Learn to Skate Program 2012-2019- Group Instructor
Jr. Golf Program 2018- Teaching Golf Fundamentals
HCC Cross Country Team WOSSA Championships 2018
Team History:
HCC Secondary School Golf  Team 2018, 2019
HCC Secondary School Track and Field
Made the Sr. Relay Team 4 by 400M in Freshman year
HCC Cross Country Team WOSSA Championships 2018
Helped advance team to WOSSA Championships 2018, 2019
HCC Badminton Team

London Legion Track Team
Individual Accomplishments:
3rd Maple City Country Club Southwest Golf Champion of Champions (2019)
Golf

Kings Forest – Hamilton, ON CJGA – Match Play – Quarter Finals (76, 80)
Maple City Junior Ladies Champion 2019, 2020,2021
Holy Cross Secondary School MVP of the year 2018, 2019
Rookie of the year Jamieson Junior Tour 2019
3rd Jamieson Junior Tour (2020)
Figure Skating
Quadruple Gold Test Skater
Pre-Novice Sectional Competitor
2nd Ladies Starskate Regionals Championship 2018
Track and Field
OFSAA Regionals 2019 800M
WOSSA 2019 400M
4th Tri-County 2018 Cross Country Team
Honour Roll Gr.7- Grade 12 Graduation, Highest Grade in Grade 12 Accounting in School
Highest Grade Phys-Ed 2020
Club Distances:
Driver: 255-270
5wood: 240
4Hybrid: 210
5 iron: 180
6 iron: 170
7 iron: 160
8 iron: 150
9 iron: 130
P wedge: 120
U wedge: 100
56 wedge: 90
Tournament Low Scores:
1st place Jr. Girls Club Championship @ Maple City CC (75,77) Kings Forest - Hamilton, ON CJGA - Match Play - Quarter Finals (76, 80) 8th Maple Leaf Junior Golf Tour @ Grey Silo GC (79,83) 2nd place Jamieson Junior Golf Tour @ Silver Lakes GC (77) 2nd place Jamieson Junior Golf Tour @ Essex GC (77) 2nd place Jamieson Junior Golf Tour @ Erie Shores (79) 42nd place (made cut) Golf Ontario U19 Ladies Championship (82-77-79-84)
Stats:
Handicap: .3
Tournament Scoring Average: 77
Trackman (December 2021)
4 Wood: Single shot report (mytrackman.com)
Driver: Single shot report (mytrackman.com)
Single shot report (mytrackman.com)
60 Yards: Test Center report (mytrackman.com)