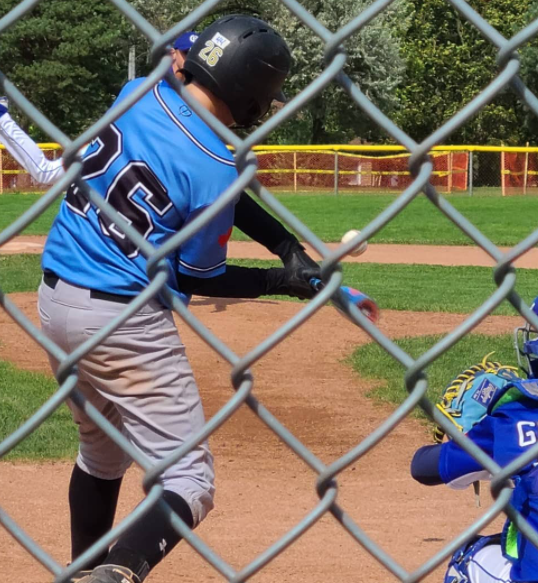 Liam Wright
Status: Uncommitted
Class of 2025
Next Level U Statement
I am interested in continuing to play baseball throughout my time in high school, and to concentrate on developing my skills as an athlete.  Ultimately, I would like to  play baseball at college or university level, while studying Business and Economics with the goal of obtaining a bachelor degree in Business. My defense has shown to be the best part of my game as I consistently have had 100% fielding percentages.  I'm a contact hitter who have always been top 3 in hits on teams that I have been on.
Contact this athlete
Academics
I'm interested in Business, Marketing, and Technology.
Country

Canada

School Name

Grand River Collegiate Institute

School City

Kitchener
Grad Year

2025
Athletics
I'm a 14 year old 1st Basemen and Closing pitcher from Kitchener Ontario. I have been playing baseball for 6 years. I play Elite baseball for the Midwestern Ontario Bearcats, and I am known for my defense, and my consistent hitting.
Gender:
Male
Citizenship:
Canadian
Height:
6'0
Weight:
154
References:
Rob Scott
Head Coach 2020 & 2021
Email- rob.scott@kitchenermirnorbaseball.ca  Cell Phone 226-789-8403
Team Name:
MIDWESTERN ONTARIO BEAR CATS BASEBALL CLUB
Positions:
1st base and closing pitcher
Player Strengths:
I believe my strengths are always working hard, being a team player, defense at 1st base, making contact while hitting.  As a pitcher I create weak contact focusing on pitch command and coming in in difficult situations to pitch.
Team History:
2018 -11u Kitchener Panthers, Select
2019 – 12u Kitchener Panthers, A
2020 -13u Kitchener Panthers,  AA
2021 -14u Kitchener Panthers,  AAA
2022 -15u  Midwestern Ontario Bearcats, Elite
Individual Accomplishments:
Grade 7 honor roll.  Grade 8 honor roll.
Team Accomplishments:
2nd place Pink Ribbon Rundown tournament 2018.
Inter county baseball association 2nd Place playoffs, regular season record 9-6-1. 2019
Stats:
2020-  Games played:16.  At bats: 43  Average: 429.  On Base Percentage: 500.  Slugging %: 488  Hits:18  singles:15   doubles:2 Triples:1  Runs batted in: 16
Pitching-  Games pitched: 5.  Batters faced 23. Strikeouts 7 Earned Runs Against: 1.400  Walks Plus Hits per inning pitched: 1.800. Opponent batting average: .125
Fielding- field percentage: 1.000 Putouts 17