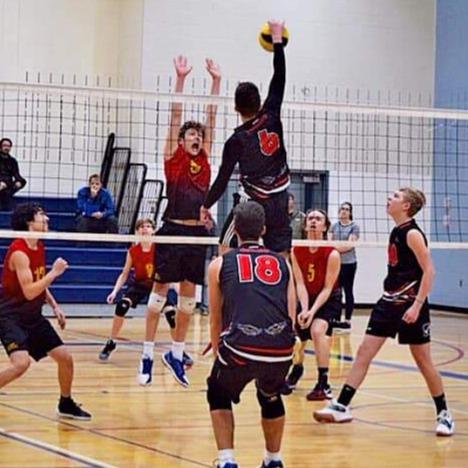 Maciej Tereszko
NCAA ID: n/a
Status: Committed to Sheridan College
Class of 2021
Next Level U Statement
I am committed and interested in continuing my young volleyball career at a 4 year D1 or D2 institution or an Ontario, Western and Eastern Universities/College in Canada, while obtaining a business/marketing education. With a positive and strong commitment on and off the court, I have the ability to excel under pressure in any situation, as well as showing a strong leadership whether it with my teammates on the court, or outside the gym doors. This is my third year playing competitive/rep volleyball, and I always find a way to get better at a certain skill. For example starting to a standing float serve, to getting comfortable with jump spinner serves under pressure. I have the ability to hit anywhere on the court, and using smart decisions as I read the block and also see how the opponents defense is set up, so I have the ability to hit it into open space/gaps, that leads to getting the point. I spot defensive holes, additionally being able to move with quick feet to dig that hit, block fast and effectively, and running those quick attacks. With many skills as an all-rounded player, I am still eager to learn more about the sport through the coaching staff and by easily playing the game, and to be a committed and dedicated student athlete, representing the school well.
Contact this athlete
Academics
School Name

St Ignatius of Loyola Secondary School

School City

Oakville
Grad Year

2021
Athletics
Gender:
Male

Team Name:
Guelph Jr. Gryphons Volleyball
Positions:
Outside Hitter (Left Side, Right Side)
Player Style:
Consistent, Passionate, Positive, Intelligent, Expeditious
Player Strengths:
Strong, consistent and smart attacker, being able to push outside the court, and vision how the defence is set up, giving the ability for me to see the entire court and finding those open gaps and angles to hit to gain that point. Being able to hit spots exposing the opponents defense, and fearlessly hitting off the block.
Powerful, accurate, and consistent jump serve, that is able to give the opponents hard times to dig the ball. Under pressure, I am still comfortable to use my serve to get the team back. I am able to find the opponents attacking swing and where he is trying to aim on the court, as I am able to react quickly with fast feet being capable of adjusting to server tendencies quickly and allowing for my team to easily score. Passing off the serve receive, I am able to keep a not be afraid to step in, keep a strong platform, and get that ball to the setter to be able to have multiple attacking options.
Leadership:
EVP Eagles U17 Assistant Captain
Junior High School Volleyball Captain
Junior High School Basketball Captain
Senior High School Volleyball Captain
Team History:
St Ignatius of Loyola SS Junior Volleyball 2017-2019
EVP Eagles U17 2018-2019
St Ignatius of Loyola SS Senior Volleyball 2019-Present
Guelph Gryphons Flight U18 2020-Present
Beach Ontario Volleyball 2020-Present
Individual Accomplishments:
High School Junior Volleyball MVP
High School Senior Volleyball MVP
EVP Eagles MVP
EVP Eagles Rookie of the Year
EVP Eagles All Star Team
Junior Basketball MVP
High School Coaches Award
Honor Roll Grade 10
Honor Roll Grade 11
Grade 10 English Award
Team Accomplishments:
High School Sheridan College Tournament Champions
High School Halton Region Champions (2018) and Runner Ups (2019)
U17 OVA Premier 4 time Medalist (2 silver, 2 bronze)
U17 Rep Invitation Finalists
U16 National Participants
High School Invitational Tournament 5 time Medalist
High School Sheridan College Tournament Champions
High School Halton Region Champions (2018) and Runner Ups (2019)
U17 OVA Premier 4 time Medalist (2 silver, 2 bronze)
U17 Rep Invitation Finalists
U16 National Participants
High School Invitational Tournament 5 time Medalist
Stats:
Personal Best Stats:
Standing Reach: 7'9 ft
Block/Standing Jump: 10'2 ft
Approach Jump: 10'9 ft