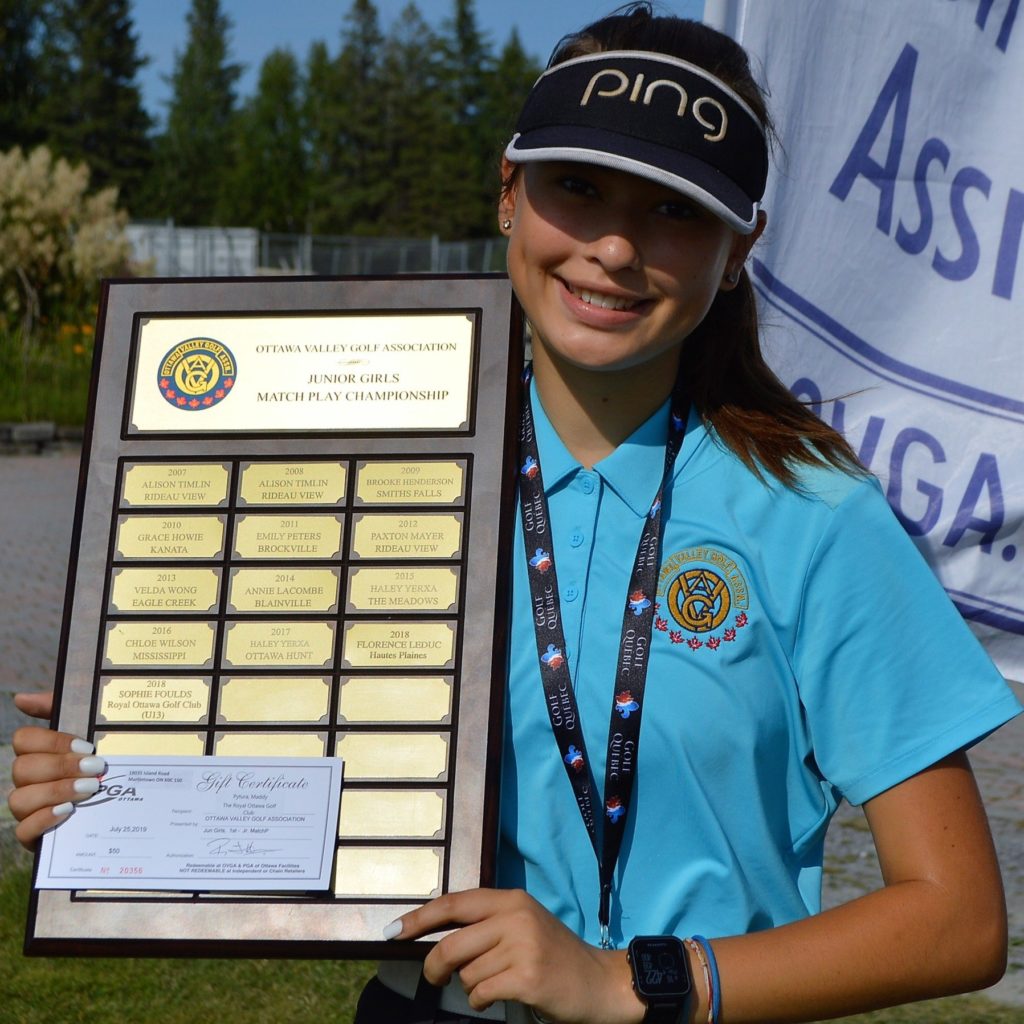 Maddy Pytura
NCAA ID: 2008912117
Status: Committed to Saint Leo University
Class of 2022
Next Level U Statement
Interested in playing golf at a 4 year institution, while obtaining a business education. High grit player and very coachable. Look forward to making a contribution to a team.
Contact this athlete
Academics
School Name

Nepean High School

School City

Ottawa
Grad Year

2022
Athletics
Gender:
Female

Player Style:
High grit and mentally strong.
Player Strengths:
Mental game, short game and putting.
Team History:
OVGA Team Ottawa 2019 and 2020
Individual Accomplishments:
67 Practice Round Low
2021 Quebec Junior Championships 5th Place (77-79-75)
2021 Forest Akers West- Spring Series T-8 (81-82)
2021 Quebec Women's Amateur 12th Place
2020 GAO U19 Ontario Girl's Championships 38th, 2019 OVGA District
Champion U17 and U19, 2019 OVGA Optimist Club Spring Classic
Champion U19, 2019 OVGA Match Play Champion U19, 2019 GAO U19
Ontario Girl's Championships 39th 2018 OVGA Optimist Club Spring
Classic Champion, 2017 Kevin Haime Junior Master's Champion
Team Accomplishments:
2019 Quebec Inter Regional- member of Team Ottawa- Champions
2019 Quebec Inter Regional – 2nd place overall for girls
Club Distances:
Driver: 220
4wood: 210
5iron: 160
6iron: 150
7iron: 140
8iron: 130
9iron: 120
Piron: 110
52: 100
56: 80
Tournament Low Scores:
73, 2019 Inter-Regionals 75 2021 Quebec Provincial Championships 75, 2019 OVGA Districts
Stats:
Hand: Right
Handicap: 1.9 handicap.