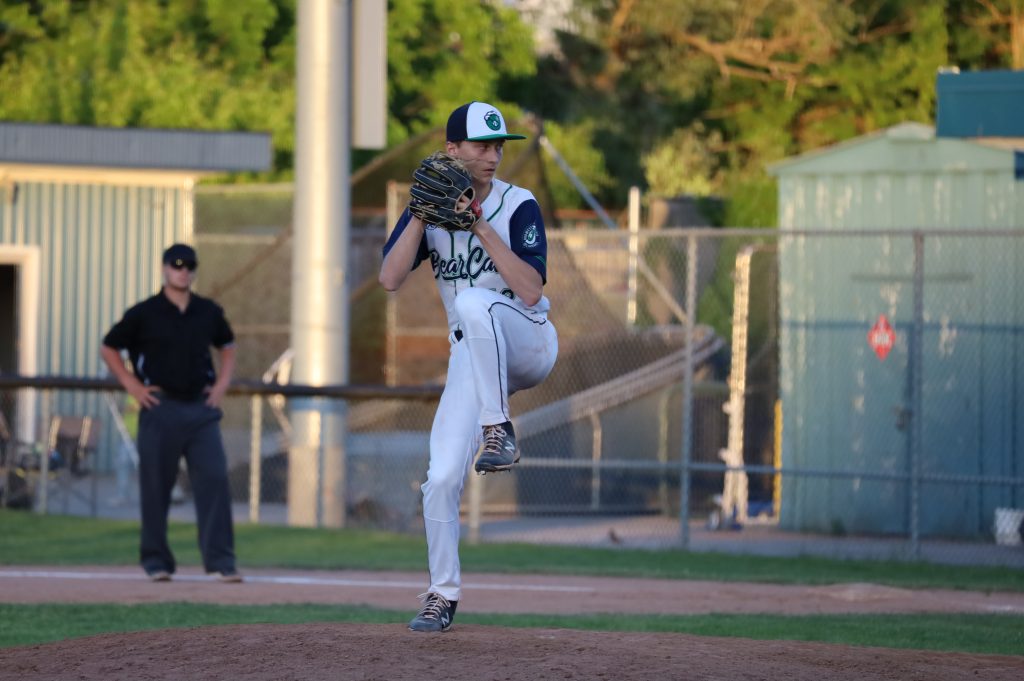 Mathew McNicoll
NCAA ID: 2103121940
Status: Uncommitted
Class of 2024
Next Level U Statement
I'm highly interested in attending a 4 year institution to study kinesiology, sports sciences, athletic training or educational studies for intermediate/senior levels, and to play baseball at the highest possible level while earning my degree. Baseball has been a passion of mine since I was young and one of my main objectives is to learn the skills necessary in order to have a career where I can continue to be involved in the sport.
Contact this athlete
Academics
Physiotherapy, Psychology, Kinesiology, Sports Science, Athletic Training, Athletic Education and Business, physical education focusing on intermediate/senior levels.
Country

Canada

School Name

École Secondaire Académie Catholique Mère-Teresa

School City

Hamilton
Grad Year

2024
Athletics
Gender:
Male
Citizenship:
Canadian
Height:
5'11"
Weight:
155
References:
Mike Barbosa – Current coach for MO Bearcats 18U
Greg Filice – 202o Ontario Rockies Coach & 2019 Assistant Coach Ancaster Diamondbacks
Positions:
Pitcher
Outfielder
Player Style:
Pitching:
I have a very smooth pitching windup that requires lots of flexibility which helps me stride closer towards home plate. My goal while pitching is to keep my team in the game for all the innings I pitch. While pitching, I try to get ahead early in the count to use my breaking balls for the strikeouts or groundballs as my offspeed pitches are my best pitches.
Hitting:
Since im a left handed batter, I use the opposite field to my advantage. I stay in the back of the box and focus on hitting the ball towards left center for singles, doubles or triples. I am not a homerun hitter but I am a player that does anything he can do get on base to use my speed to steal bases and score runs for the team.
Fielding:
I can play any outfield position very well since I have great speed and tracking ability. Since I am a pitcher, I know the importance of making clutch plays and always giving 101% and my arm is strong enough to throw guys out trying to advance and score.
Player Strengths:
Fastball 75-80 mph
Great breaking pitches (12/6 Curve 60-66mph) (Changeup 65-69mph) (Sinker 72-76mph)
Contact hitter
Fast runner
Very aggressive base runner
Confident at tracking outfield hits
Throwing from the outfield
Great pitching stamina
Suportive teammate
Positive player
Team History:
2023/2024 Bullettproof Elite Baseball Club U18
2022/2023 Mid Western Ontario Bearcats U18
2021/2022 Mid Western Ontario Bearcats U16
2020 (Fall) 2021 (Summer) U15 Ontario Rockies Elite
2020 U14 Ancaster Diamondbacks AAA
2019 U14 Ancaster Diamondbacks AAA
2018 East Mountain Baseball Association PeeWee Select
2017 East Mountain Baseball Association Mosquito Select
2015-2016 East Mountain Baseball Association House League
Other Info:
2018 – current Certificate Ontario Umpire level 2.2 (Level 3 2022)
Individual Accomplishments:
2020 (Fall) Ontario Rockies – Call up to U16 – 4 Game Weekend Series VS Don Valley Dodgers
Game #3 – Pitched 5 Innings
No Runs Against
Winning Pitcher
FPS 17
4 Strikeouts
WHP 1.60
2019 Ancaster Diamondbacks Lion's CNE Tournament Pegg Cup
Game #1 vs Georgina
Game MVP & Winning Pitcher
2018 East Mountain Cobras PeeWee Select – Welland Mustangs Select Tournament
2019 July – Promoted Senior Class a year early, receive Sr Blackbelt
2019 June – Received 3rd Degree
2018 June – Receive 2nd Degree
2017 June – Received 1st Degree
2016 June – Received Jr Blackbelt from First Choice Martial Arts
Highlight Video
Highlights of 2021 Season