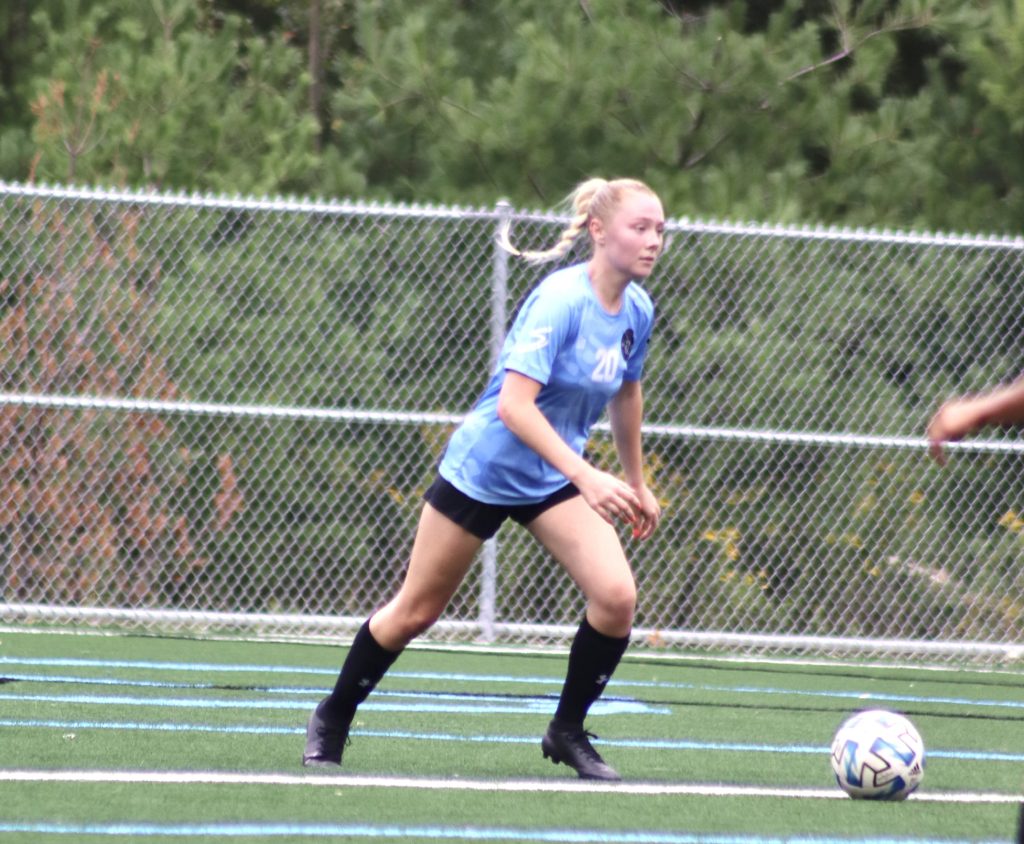 Megan Todtz
NCAA ID: 1906602294
Status: Committed to California University of Pennsylvania
Class of 2022
Next Level U Statement
My goal is to play soccer at the next level while obtaining a degree in Political Science. Fearless, fierce and versatile Center-Back with great conditioning, speed, acceleration, strong field vision with undying tenacity provides me with the ability to play both sides of the pitch. Possessing the ability to join or create attacks without forgetting defensive duties and stability. An asset to any team, contributing through leadership, skill, knowledge and love of the game.
Contact this athlete
Academics
Political Science / Pre Law
Criminal Justice
Country

Canada

School Name

Grand River Collegiate Institute

School City

Kitchener
Grad Year

2022
Athletics
Gender:
Female
Citizenship:
Canadian
Height:
5'7"
Weight:
135

Team Name:
FC Berlin
Positions:
Main position is Center back. Can also play any other defender position (Full back,Wing back)
Player Style:
Backbone Center back/Defender
Player Strengths:
Fearless, speed, strong physicality, great conditioning and stamina, strong field vision, explosive pace, strong technical skills and touch on the ball, strong and resilient tackler, ability to use both feet and both sides of the pitch.
Leadership:
2017-2019 Laurel Creek Track and Field Club (Women's Sprints Teams)
2017-2018 Basketball  Breslau PS (Captain)
2016-2018 – Waterloo Predators Volleyball
2015-2018 – Track & Field Breslau Public School (2018 1st in 100m, 1st 200m, 1st 400m, 1st Long Jump)
Team History:
2021 -Present: Berlin FC  U21  OWSL Provincial 
2019-2020: Berlin FC Academy ID Girls
2020 Indoor Ontario Cup Semi Finalists Berlin Academy ID Girls
2019 Ohio Great Lakes Showcase Champions
2019: Grand River Collegiate Institute Varsity AAA High School Soccer Team 
2019 WCSSAA AAA Varsity Soccer Champions 
2019 WCSSAA AAA High School Varsity League Champions
2019 CWOSA AAA Varsity Soccer Finalist
2018 – 2019: Waterloo United Soccer Club – L3 WRSL (U15)
2017-2018: Kitchener Soccer Club – L3 WRSL (U13, U14)
2012-2016: Waterloo United Soccer Club (U9-U12)
Individual Accomplishments:
2020 PLAYER OF THE MATCH October 18, 2020 vs EU White (W 3-2)
GRCI Varsity Soccer AAA Rookie MVP (2019)
GRCI Starting Full-Back as a Freshman/Grade 9 (2019)
2018 Female Athlete of the Year – Breslau PS (Track & Field, Basketball and Volleyball)
2018 Track & Field 100m, 200m and 400m Champion – Breslau PS
2018 Track & Field 200m 2nd place finish at Regionals
2018 Selected to Represent Breslau PS in the Council Leadership Group at Regional Events and Activities.
Team Accomplishments:
2020 Indoor Ontario Cup Semi Finalist 
2019 Ohio Great Lakes Showcase Champions 
2019 WCSSAA AAA Varsity High School Soccer Champions 
2019 WCSSAA AAA Varsity High School Soccer League Champions
2019 CWOSSA AAA varsity high school soccer finalist
2019 U15 WRSL L3 Kick-Off Cup Champions – WSC U15
2019 U15 Umbro Top Rated Showcase Platinum Bracket B Champions – WSC U15
2018-19 U15/U16 Southwest Optimist Winter Indoor League Cup Finalist – WSC U15
2019 U16 Ontario Cup Indoor Semi-Finalist – WSC U15
2019 U16 Scrooge Tournament Finalists – WSC U15
2018 U14 Ancaster Tournament Gold Finalists – KSC U14
2017 U13 WRSL L3 League Champions – KSC U13
2017 U13 Henderson Cup Champions – KSC U13
Highlight Video
2021 Summer Highlights from Ontario Women's Soccer League (OWSL) Provincial Division playing Center back with FC Berlin Women's Team