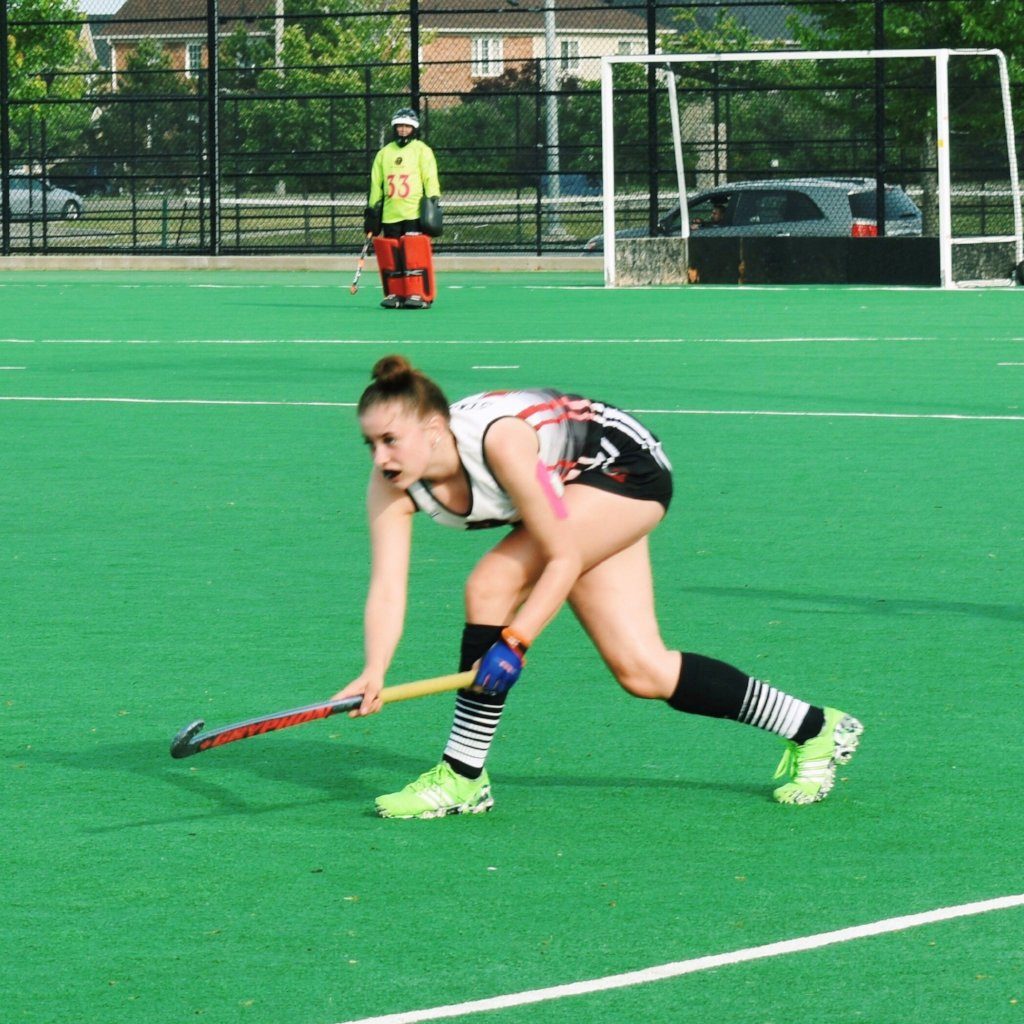 Natasha Stanford
NCAA ID: n/a
Status: Committed to Queen's University
Class of 2020
Next Level U Statement
Interested in obtaining a 4-year degree in Kinesiology/Health Science while pursuing excellence in field hockey as a varsity student-athlete. An asset to any team with strengths in leadership, competitive mindset, field vision and high-level technical skills. A dedicated student, athlete and a team player eager to make a strong contribution to the success of a field hockey program at the college level.
Contact this athlete
Academics
School Name

Appleby College

School City

Oakville
Grad Year

2020
Athletics
Gender:
Female

Positions:
Defence/Midfield
Player Style:
Highly developed field vision allowing to be a strong ball-moving defense/midfielder who seeks to exploit opposition weakness through quick and accurate transitions up the field.
Player Strengths:
Technical Skill: Strong ball handling, aggressive tackler, hard accurate drives at speed, short corner insertion and hard striker.
Vision & Intelligence: A strong ball-moving defence/midfielder with acute field vision that seeks to exploit the opponents weaknesses and quickly attack up the wings.
Mindset: Self-motivated, responsible, coachable, on-field leadership during training and games, passion and drive.
Leadership:
LSS Certification – Swim Instructor 2018
High Five Certification – Leadership Training 2018
NLS Certification – Canadian Lifeguard certification 2018
Leadership Development Program – Camp Huronda 2017
Level 4, Ontario Recreational Canoe Association 2017
CPR1, CPR2, Standard First Aid 2017
Bronze Cross, Bronze Star, Bronze Medallion – Lifeguard prerequisite 2016
Sir Edmund Walker Scholarship for community service & leadership 2016
Junior Leadership Development Program – Camp Pinecrest YMCA 2016
Athlete of the Year, Grade 8 graduating class, WH Morden School 2016
Community Volunteering – 67 hours cumulative 2016 – Present
Team History:
Team Ontario Central 2019 – Present
GOA Reds Field Hockey Club 2018 – Present
Appleby College Senior Varsity Field Hockey Team 2016 – Present
A&C Field Hockey Club 2017 – 2018
Halton Thrashers (Rep) Field Hockey Club 2014 – 2017
Halton Field Hockey Club 2011 – 2014
Individual Accomplishments:
Team Ontario Central Selection (2019)
Honour Roll (Grade 9 & 10)
Duke of Edinburgh Award Candidate (2019) – Internationally recognized Youth Development award.
2018 Season with Appleby College – 13 goals as a defender
Shooting Stars Thanksgiving Showcase 2017 and 2018
• Playing with Western New York Whalers team
Disney Showcase 2018 with A&C FHC – 2 goals
U18 Rookie of the Year (as 14 yr old) – Halton Thrashers Field Hockey Club (2016 – 2017)
U16 Coach (while playing U18 as a 14 yr old) – Halton Thrashers Field Hockey Club (2016 – 2017)
Sir Edmund Walker Scholarship (2016) – Awarded to incoming students who demonstrate exceptional leadership skills, both inside and outside the classroom.
U16 Captain (as 13 yr old) – Halton Thrashers FHC (2015 – 2016)
U14 Captain (as 12 yr old) – Halton Thrashers FHC (2014 – 2015)
Appleby College Senior Varsity Volleyball (2017 – Present)
Appleby College Junior Varsity Volleyball (2016)
EVP Eagles Rep Volleyball (2014 – 2016)
• U15 Team Captain
Team Accomplishments:
2019 Canadian National Field Hockey Championships – Ontario Central – Bronze Medal
2019 May Meltdown – Bronze Medal
2019 GOA Reds Field Hockey Club – Shooting Stars Indoor Tournament Champions (New Hampshire)
CISAA Champions – Appleby College Senior Varsity Team (Three consecutive years: 2016, 2017, 2018)

Scarborough Cup Champions 2017 – A&C FHC
3rd Place, Junior Women's Provincial League – U14 Halton Thrashers FHC 2015
Bronze, CFHCC Tournament – U14 Halton Thrashers FHC 2014
Stats:
May Meltdown 2019 (3 Goals)
11-1 in 2018 CISAA league play with Appleby College (11 goals – Grade 11)
Undefeated in 2017 CISAA league play with Appleby College (Grade 10)
Undefeated in 2016 CISAA league play with Appleby College (Grade 9)