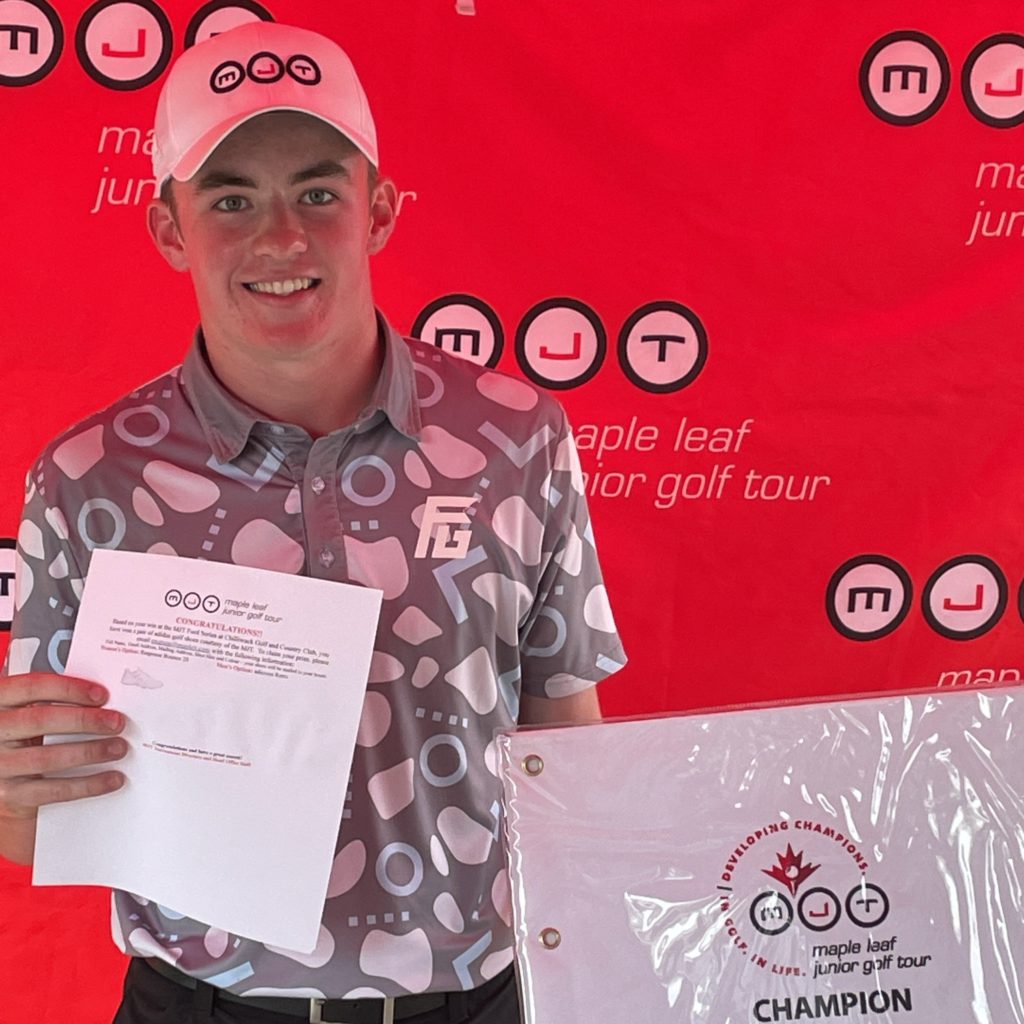 Owen Henry
NCAA ID: 2102113837
Status: Uncommitted
Class of 2022
Next Level U Statement
Interested in playing golf at a 4 year institution while obtaining a Statistics or Actuarial Science degree. An asset to any team – a coachable athlete contributing through leadership, hard work, skill and knowledge of the game.
Contact this athlete
Academics
Statistics
Actuarial Sciences
Economics
Mathematics
Country

Canada

School Name

Oakridge SS

School City

London
Grad Year

2022
Athletics
Gender:
Male
Height:
6'0"
Weight:
165 lb
References:
Swing Coach-Mark Elliott
mark@golfperformance.ca
Player Style:
Team player who loves a competitive atmosphere.
Player Strengths:
Putting, Short Game, Overall Driving
Leadership:
2021 – Captain of the Oakridge SS Boys Golf Team Senior Year (TVRAA Champions)
Team History:
Oakridge SS Boys Golf Team (Golf) 
Team H Jones – Ontario Curling Council Next Gen Program (Curling)
Oakridge SS Boys Curling Team – OFSAA (Curling)
Individual Accomplishments:
2021 – 21st Place Juvenille Division at the MJT National Championship presented by TaylorMade and Adidas Golf (Invitational) at Morgan Creek Golf Course
2021 – Indian Hills Mens Club Championship
2021 – Qualified for the U19 Golf Ontario Junior Boys Championship
2021 – 2nd Place Midwestern Ontario Optimist Junior Golf Championship (1st Alternate for 2022 Optimist International Junior Golf Championship)
2021 – Sunningdale G&CC Staff Matchplay Champion
Oakridge SS Honour Roll Junior Year
World Academy of Sport Athlete Certificate
Oakridge SS Honour Roll Sophomore Year
Oakridge SS Boys Curling MVP Sophomore Year
2019 – West Haven G & CC Junior Club Champion
2019 – Qualified for Optimist International Junior Golf Championship
2019 – Qualified for U15 Golf Ontario Championship
Oakridge SS Honour Roll Freshman Year
Oakridge SS Boys Curling MVP Freshman Year
2018 – Sunningdale Tyson Tour Championship Bantam Champion
2018 – Les Thomas Tyson Tour Event Bantam Champion
2018 – Grade 8 French Award
2018 – Grade 8 School to Community Partnership Award
Team Accomplishments:
Oakridge SS Boys Golf TVRAA Champions Senior Year
Team H Jones – Selected for Ontario Curling Council's Next Gen Program
Oakridge SS Boys Curling TVRAA and WOSSA Champions Sophomore Year
Oakridge SS Boys Golf TVRAA and WOSSA Champions Sophomore Year
Oakridge SS Boys Curling TVRAA Champions Freshman Year
2017 – U14 West London Soccer Boys League Champions
Club Distances:
Driver – 265-280 yards
5-wood – 235 yards
3-hybrid – 220 yards
4-iron – 200 yards
5-iron – 185 yards
6-iron – 175 yards
7-iron – 165 yards
8-iron – 155 yards
9-iron – 140 yards
PW – 125 yards
50-degree – 115 yards
54-degree – 100 yards
58-degree – 80 yards
Tournament Low Scores:
2021 74-Carlisle GC (MJT) https://www.maplejt.com/tour.php?id=2021045&p=results 74-St. Marys G&CC (COJG) https://www.cojg.com/scores.html 75-Timber Ridge GC (MJT) https://www.maplejt.com/tour.php?id=2021040&p=results 75-Shelburne GC (Golf Ontario U17 Boys Championship Qualifier) https://www.golfgenius.com/pages/7108800425884699111 75-Guelph Lakes G&CC (MJT) https://www.maplejt.com/tour.php?id=2021039&p=results 76-Carlisle GC (MJT) https://www.maplejt.com/tour.php?id=2021045&p=results 76-Cambridge Golf Club (Golf Ontario U19 Boys Championship Qualifier) https://www.golfgenius.com/pages/7051021173026506934 76-Guelph Lakes G&CC (MJT) https://www.maplejt.com/tour.php?id=2021039&p=results 2020 76-St. Andrews Valley (MJT) https://www.maplejt.com/tour.php?id=2020044&p=results 78-Station Creek (MJT) https://www.maplejt.com/tour.php?id=2020045&p=results
Team Events Results:
Oakridge SS Boys Golf 12th Place OFSAA (248, 246; 494) Oakridge SS Boys Golf 1st Place WOSSA (239) Oakridge SS Boys Golf 1st Place TVRAA (237)
Stats:
Tournament Scoring Average-77.8
Scoring Average – 76 (from 6500 yards)
Low Score – 70 (from 6400 yards)
Handicap – 2.3
Trackman Link For Additional Stats:
https://trackman.page.link/aVWhg
Highlight Video
Swing Video-August 14, 2021