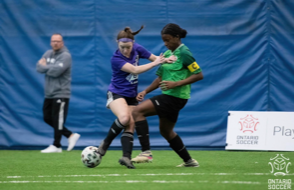 Reese Klages
NCAA ID: 2303814283
Status: Uncommitted
Class of 2024
Next Level U Statement
Interested in playing soccer at University/College level. Exposed to and trained in all positions.  Currently playing in a defensive position and can switch between center back and full back. Can adapt easily and play wherever my team needs me (also can play attacking position i.e. winger). Skilled with control and confidence with both my right and left foot.  Uses speed effectively to catch any attacking players and use my great defending ability to retrieve the ball from and opposing player.  Great anticipation reading the pitch and communication with fellow teammates.
Contact this athlete
Academics
Health Sciences
Biology
Still deciding it is a tough decision
Country

Canada

School Name

Medway Public School

School City

Arva
Grad Year

2024
Athletics
I started playing soccer in my hometown of Ilderton, ON at the age of 4, and by the time I turned 7 years old I was playing 2-3 years older. When I turned 10 I made the jump to more competitive soccer and joined the London Oakridge Soccer Club. Wanting to take my soccer to the highest level possible, and get the best coaching I could, I joined the London Alliance FC a few years later at the age of 14. I've also played school volleyball, basketball, soccer and track and field (including 3 years in a Western University affiliated track program). I am now competing at the highest level for soccer in the province.
Gender:
Female
Citizenship:
Canadian
Height:
5 feet 0 inches
Weight:
125 lbs
References:
Coach Andreas Nolte – 1-519-860-6989
London FC Alliance
Coach David Hessel –  tv54979@gotvdsb.ca
Medway Varsity AAA High School Soccer
Team Name:
FTF CANADA
Positions:
Centre Back/Right Left Back for club team
Attacking winger/Centre Back for High School Varsity team
I can play anywhere needed
Player Style:
 Backbone Defender who likes to shut down other team best players. Uses speed and aggression to frustrate opponent and don't let them get past me.
Loves to predict where ball going before it gets there. Steal the ball and join attack with great first pass or fly by someone with my speed and/or change of direction and create scoring opportunities for my teammates.
Player Strengths:
Speed Quickness and more Speed and Quickness. Change of direction at top speed.
Calm under pressure. Play making ability top notch. Pride myself in great first pass.
Modern Day defender who likes to join the attack when opportunity presents itself.
Team History:
2021 – present   – London Alliance FC 2006 girls (we generally played up an age last year)
2017-2021 – Oakridge soccer club
2022 – present    – Medway Varsity High School
Individual Accomplishments:
Grade 9 and 10 Honour Roll
Team Accomplishments:
2023 – Outdoor Ontario Cup Finalists = 2nd
2023 – Ancaster Heritage Days (Under 18 Division) = 1st
2023 – Western Ontario Secondary Schools Athletic Association AAA – Varsity High School Soccer = 1st
2023 – TVDSB Central AAA Soccer Championship – Varsity High School Soccer = 1st
2023 – Guelph First on Turf (Under 18 Division) = 1st
2023 – MTS Early Bird (High School Soccer) = 1st
2023 – FTF Spring Showcase = 4th
2023 – Indoor Ontario Cup = 2nd
2022 – FTF Canada Fall Showcase = 4th
2022 – Guelph First on Turf (played up an age division) = 1st
2022 – FTF Spring Showcase (played up an age division) = 1st
Going to be a big year for our team lots more to add to this list in 2023.