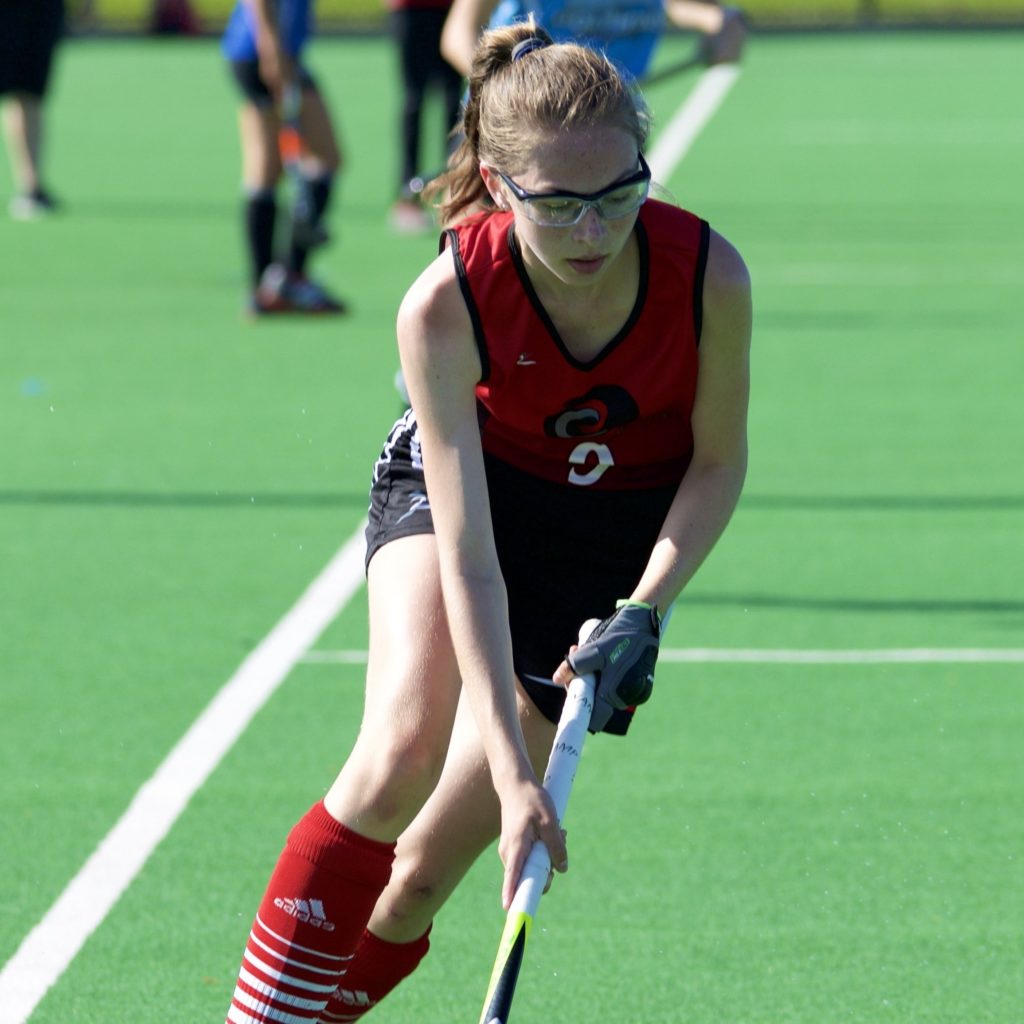 Tiffany Binkle
NCAA ID: 2105175044
Status: Uncommitted
Class of 2023
Next Level U Statement
Interested in obtaining a degree at a 4-year institution while playing field hockey. An asset to any team who contributes through skill, leadership and knowledge of the game. A hard working and dedicated player that will fit in with any team.
Contact this athlete
Academics
School Name

Resurrection Catholic Secondary School

School City

Kitchener
Grad Year

2023
Athletics
Gender:
Female

Positions:
Midfield / Forward/ Has Experience Playing Defence
Player Style:
Aggressive, Smart, Fast Paced
Player Strengths:
Ball skills, Accurate passer, Speed on the ball, Can make plays under pressure, Consistent in shoot-outs.
Team History:
2019 – Present Resurrection Catholic Secondary School
2020 – Present Guelph Cobras Field Hockey Club
2020 U16 Team Ontario (Cancelled due to Covid)
2020 Ontario Winter Games (U18 A&C FHA)
2019 A&C Invitational Team
2018 Ontario Summer Games (U15 Ontario West)
2018 – 2020 A&C Field Hockey Academy
2017 – 2019 U15 Team Ontario
2015 – 2018 KW Dragons
Individual Accomplishments:
Merit Award 2019-2020 school year
2019 Selected to Field Hockey Canada NextGen Program
2019 A&C FHA Junior Athlete of the Year
2019 Team Ontario West Team Captain
2019 Started every high school game in the midfield in grade 9
Letter W Award 2018-2019 school year
2018 Selected to U19 Indoor Team
Honour Roll (Grade 7, 8, 9)
Team Accomplishments:
2017 Nationals U15 Team Ontario West Silver Medal
2018 U15 May Meltdown Bronze Medal
2018 U18 May Meltdown Silver Medal
2018 U15 Halton Junior Festival Gold Medal
2018 U15 Ontario Summer Games Gold Medal
2019 U15 May Meltdown Silver Medal
2019 A&C Invitational Silver Medal
2019 U15 Gryphon Festival Silver Medal
2019 U18 Gryphon Festival Gold Medal
2019 U16 CFHCC Gold Medal
2019 Nationals U15 Team Ontario West Bronze Medal
2019 U15 Brampton Cup Gold Medal
2019 U18 Brampton Cup Gold Medal
2019 Hawk's Cup Invitational High School Tournament RCSS Gold Medal
2019 Waterloo Women's High School Tournament RCSS Gold Medal
2019 A&C High School Tournament RCSS Silver Medal
2019 District 8 RCSS Silver Medal
2019 CWOSSA RCSS Silver Medal
2019 U18 Ontario Winter Games Qualifier Silver Medal
2020 U16 Western Indoor Hockey League Silver Medal
2020 U18 Ontario Winter Games Bronze Medal
Stats:
2018 U15 Nationals – 2 goals
2019 U18 Ontario Winter Games Qualifier – 1 goal
2019 High School Season – 4 goals
2020 Western Indoor Hockey League (Premier Division) – 5 goals
2020 Western Indoor Hockey League (Women's Rec Division) – 6 goals
2020 Western Indoor Hockey League (U16 Division) – 3 goals