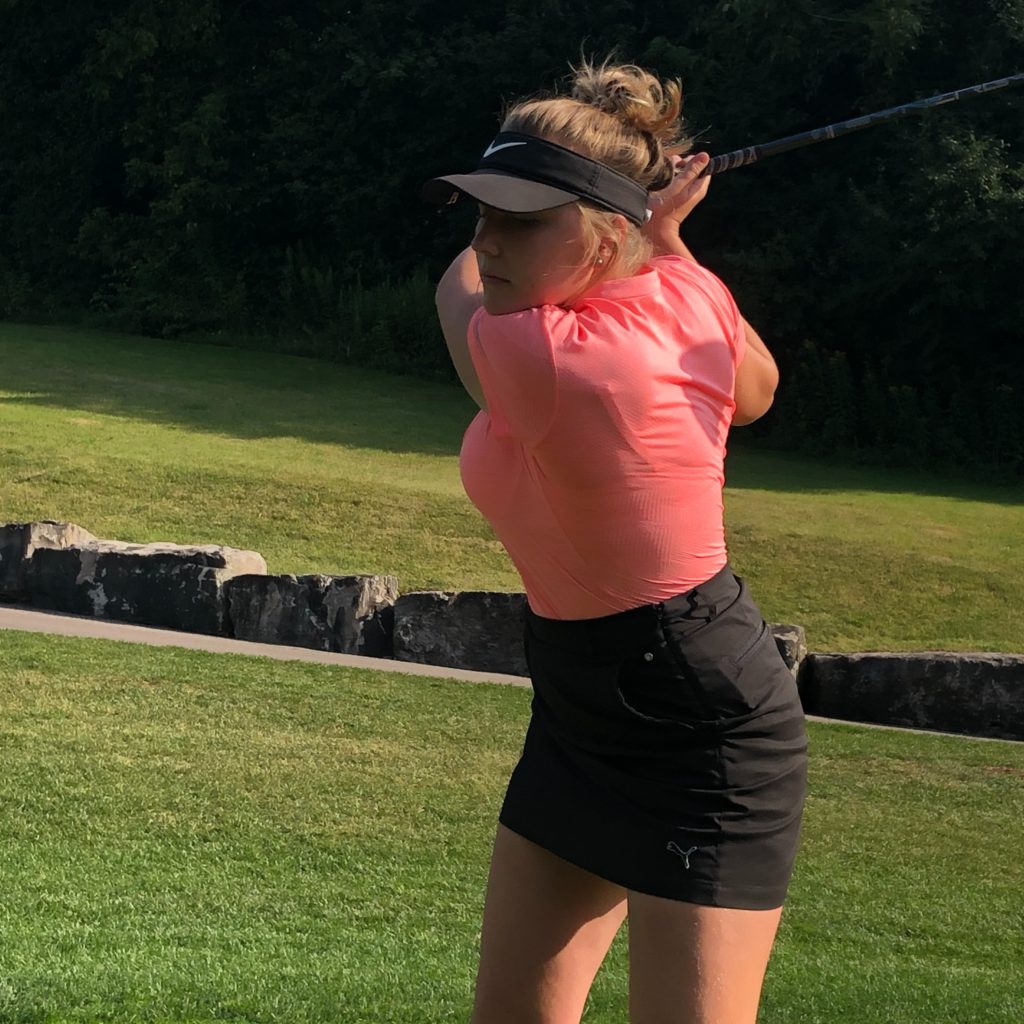 Victoria Gates
NCAA ID: n/a
Status: Committed to St. Andrews College (Scotland)
Class of 2020
Next Level U Statement
Interested in playing golf at a 4 year institution (Division I or II) on a well recognized golf team with a golf program that will help me further advance my skills, while obtaining a business degree that specializes in accounting, finance and entrepreneurship. I want to be an asset to any team through skill, dependability, leadership and to represent the school with honour.
Contact this athlete
Academics
School Name

Huron Heights Secondary School

School City

Kitchener
Grad Year

2020
Athletics
Gender:
Female

Player Strengths:
Mental game, consistency, short game, passion to play and compete.
Team History:
Whistle Bear Golf Team 2012 – 2014
Doon Valley Golf Team 2013 – 2014
Cambridge Cobras Advanced Competitive Golf Team 2015 – Present
Deer Ridge Competitive Golf Team 2016 – Present
Huron Heights Secondary School Golf Team 2016 – Present
Bags Tour Humber Cup Games Team – 2017
Tee It Up Tour Ontario Summer Games Team -2018
OTHER SPORTS
Track Team Grade 9-10
Volleyball Rec Team Grade 11
Badminton Team Grade 10-11
Cross Country Grade 9-10
Swim Team Grade 10
I have my Bronze Medallion and Bronze Cross in Life Guarding as well.
Individual Accomplishments:
Honour Roll – Grade 7 – Present
Joe Dominguez Golf Scholarship 2016
Huron Heights Golf team Girls' Captain 2016 – Present
Huron Heights MVP Golf Team Grade 11
Huron Heights Coaches Award Golf Team Grade 10 & 11
WCSAA Placed in Top 3 Each Year Grade 9 – 12 (Won Grade 10 & 12)
CWOSSA Placed in Top 6 Each Year Grade 9 – 12
OFSSA Placed in Top 10 Each Year Grade 9 – 11 (3rd in Grade 9)
OFSSA Competitor Grade 12
Caylee Mathematics and Computing Award – HHSS 1st Award 2018
Lived and Studied French in France 2016
Lived and Studied Biology in Fiji 2018
Huron Heights Co-President Short Listed Candidate 2019
Club Distances:
Sand: 75-80
A: 85-95
P: 95-105
Iron: 105-115
8 Iron: 125-135
7 Iron: 135-145
6 Iron: 150-160
5 Iron: 160-165
5 Hybrid: 155-165
4 Hybrid: 160-175
3 wood: 175-185
Driver: 190-225
Team Events Results:
Scoring Average in Tournaments: 79 Tournament Low Score 78 Puslinch Golf Course General Play Low Score 74 Legends Heathland Course Junior Club Championships at Georgian Bay Golf Club 2019 - Score: 78 MJT Event at Grey Silo 2019 - Score: 81,83 (Placed 3rd) Humber Cup at Shelburne Golf Club 2019 - Score: 79,78 (Placed 3rd) Tee-it-Up Junior Tour Champion at Savannah Golf Club 2019 - Score: 78 Tee-it-Up Junior Tour Champion at Guelph Lakes Golf Club 2019 - Score: 80 Tee It Up Tour -Finished in Top 3 in Each tournament 2018 Bags Tour- Finished in Top 2 in Each Tournament 2018 Georgian Bay Junior Champion 2018 Cambridge Junior Champion 2017 Galt Junior Champion 2017
Stats:
Handicap: 7.3