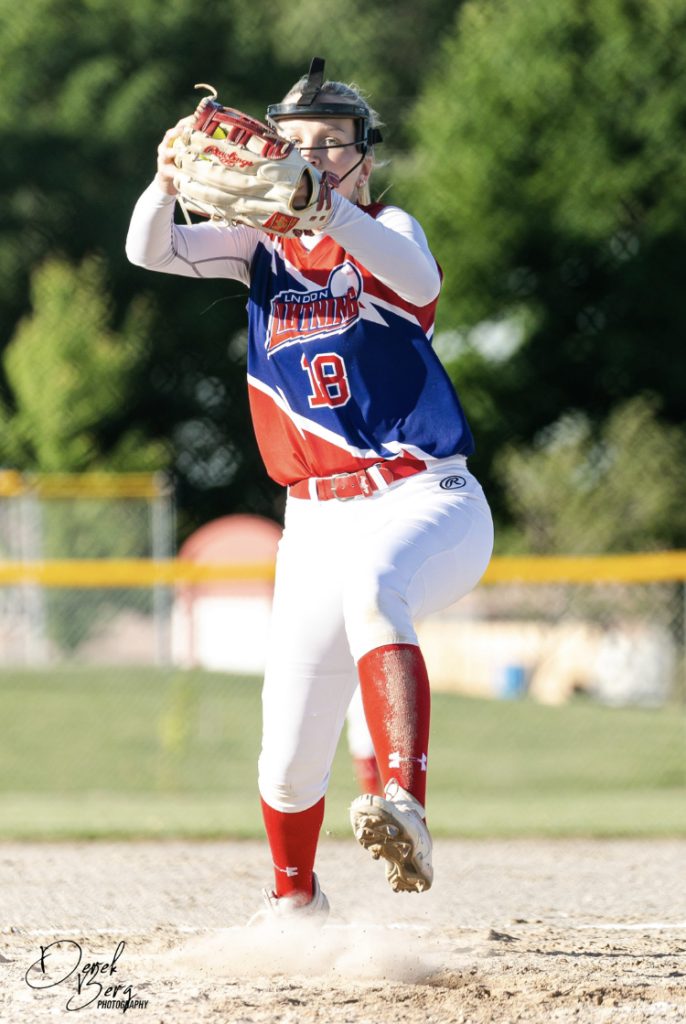 Kirsten Kipfer
NCAA ID: 2204499210
Status: Uncommitted
Class of 2023
Next Level U Statement
I am looking to attend a 4 year collegiate institution, while I can continue my softball career and decide on a major directed toward the sciences. I have been playing softball as long as I can remember! It has always been something I have greatly enjoyed, but within these past few years I have really found a love for the sport and made the decision I want to continue with it post-secondary. I have been blessed with the opportunities to play with different teams and of which I have met some of my best friends. If I had to describe my personality, I would say I am a positive, uplifting team player who is always encouraging others. I am hard-working, and have the ability to play in many different positions on the field, but excel in pitching. I am an all around dedicated athlete that loves the game and is eager to continue to learn and take this sport with me on my journey.
Contact this athlete
Academics
Kinesiology/Exercise Sciences or Civil Engineering
Country

Canada

School Name

St Michael Catholic Secondary School

School City

Stratford
Grad Year

2023
Athletics
 I Absolutely love sports & anything that keeps me active. I appreciate any advice given and will always strive to do better. In previous years, I have competed in AA ringette out of London & Dorchester, ON. In my spare time I work to improve my existing skills and learn new ones.
I am going to hopefully be returning to ringette this year, and try to get engaged with school sports as well as they begin to open back up. My main focus and favourite sport I have played is softball, and I look to go somewhere with it in the near future.
Gender:
Female
Citizenship:
Canadian
Height:
5'8
Weight:
150lbs
References:
Chris Askew (current coach): chrisaskew5@gmail.com
Trevor Rosener (previous coach): trevorrosener@gmail.com
Positions:
With regards to my primary position being pitcher, I can also be used as an utility player as I am open to learning new positions on the diamond.
Pitcher
Centrefield
3rd base
Shortstop
Player Style:
Versatile
Strong work ethic
Kind/positive
Excels in high pressure situations
Uplifting
Hard-working
Player Strengths:
 Does well in high pressure
Works hard to achieve goals
Doesn't ever give up
Takes time to perfect existing skills
Team History:
2008-2017 Mitchell Hornets Association: Huron-Perth Houseleague
2017-2018 Stratford Flames Association: U14 Tier 2
2018-2020 London Lightining Association: U14 Tier 1, U16 Tier 1
2020-2021 Breslau Fury Association: U16 Tier 1
2021-current London Lightning Association:U17 Tier 1
Individual Accomplishments:
2017/2018/2019; Qualified & Wrote Gauss Math Contest
2018 Stratford Flames U14 tier 2; MVP award
2019 School Awards; Athletic Award for class of 2019
2019/2020/2021 School Awards; Honour Roll
2021 Breslau Fury 05 U16 tier 1; Semi-final game pitched 7 inning no hitter
2021 Breslau Fury 05 U16 tier 1; Pitched finals game led to victory
2022 London Lightning U17 tier 1; 2 Out-of -the-Park Homeruns at Motor City Showdown
2022 London Lightning U17 tier 1; MVP of games at Motor City Showdown
2022 London Lightning U17 tier 1; Asked to attend Nationals with the Halton Hawks U17 tier 1 team
Team Accomplishments:
2019 London Lightning U14 tier 1; Bronze in U14 tier 1 Halton Hawks tournament
2019 London Lightning U14 tier 1; Silver in U14 tier 1 London Lightning tournament
2020; COVID-19 cancelled the season
2021 Breslau Fury 05 U16 tier 1; Finalists in U16 tier 1 UTM Caledon tournament
2021 Breslau Fury 05 U16 tier 1; Gold in U19 tier 2 UTM Caledon tournament
2022 season currently with the London Lightning U17 tier 1
2022 London Lightning U17 tier 1; 4th Place in Waterloo Ghosts U17 tier 1 tournament
2022 London Lightning U17 tier 1; 4th Place in Ontario Summer Games
Stats:
General Stats (current season):
BA = .360
GP = 50
AB = 125
R = 34
H = 45
RBI = 39
Slug% = .576
BB = 14
SO = 12
OB% = .416
General Pitching Stats
 (current season):
ERA = 2.264
IP = 123.2
Batter's BB = 41
Batter's SO = 169
Radar Pitches (July 2022):
Fastball – 60 mph
Riseball – 57 mph
Dropball – 57 mph
Change up – 50 mph
Grip/Vertical (July 2022):
Grip R – 92 reps
Grip L – 85 reps
Vertical – 21"
Speed & Agility (July 2022):
20 Yd Dash – 2.96 sec
20 Yd Shuttle – 5.06 sec
Overhand Throw (July 2022):