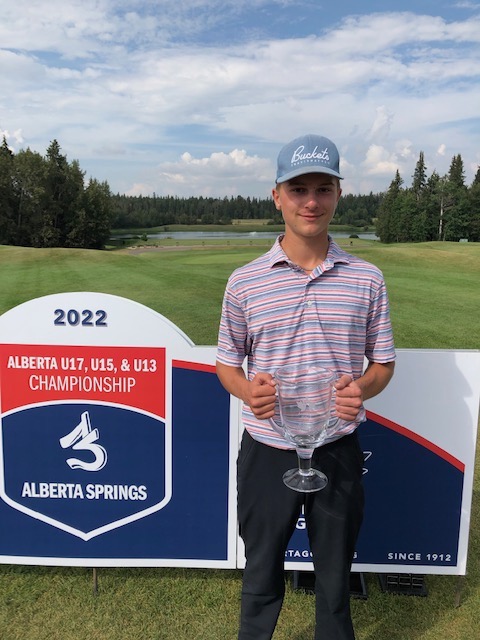 Peter Hlushak
NCAA ID: 2211730323
Status: Uncommitted
Class of 2025
Next Level U Statement
I am looking to play golf at a premier college. I am looking for a school that can offer a high level of golf and academics. I enjoy competing in tournaments and I thrive under pressure. I would be a great asset to any team as I will bring a strong work ethic, competitiveness and experience under pressure. I enjoy math, history, finance, and business. I am undecided what I would like to study at this time.
Contact this athlete
Academics
Country

Canada

School Name

Spruce Grove Composite High School

School City

Spruce Grove
Grad Year

2025
Athletics
Gender:
Male
Citizenship:
Canadian
Height:
5'10
Weight:
135 lbs
References:
Coach: Derek Baker
Email: derekb@derekbakergolfacademy.com
Phone #: 587-783-2265
Team Name:
MAPLE LEAF JUNIOR GOLF TOUR
Player Strengths:
Ability to perform well under pressure. 

Length off the tee.
Accurate wedges.
Short game.
Considerable tournament experience.
Leadership:
I skip a competitive U18 curling team.

I was captain of the Junior Ryder Cup team at my home club on two occasions.
Team History:
I played on my high school golf team in 2022 placing second at Provincials. I have been a member of the junior interclub team at my home course.  I currently skip a competitive U18 curling team. In the past, I have played several team sports including basketball, soccer, and hockey. 
Individual Accomplishments:
Qualified for 2023 Canadian Men's Amatuer Championship (August 2023)
Qualified for 2023 Canadian Junior Boys Championship (August 2023)
2022 Alberta Golf U15 Provincial Champion 71, 67 (-6)
2020 Alberta Golf U13 Provincial Champion 68, 75 (-1)
4 time defending Edmonton City Junior Champion
Qualified for 2019, 2022 MJT National Championship
Multiple wins on the MJT, CJGA and McLennan Ross Junior Tours
Multiple top 5 MJT finishes
6th 2022 ASAA High School Golf Provincials
Honors student
Grade 6 math award for highest score on advanced test
Team Accomplishments:
High School Edmonton Zone Champions
2nd place at ASAA High School Provincials
2nd place at 2021 U15 Alberta Curling Provincial Championships
Club Distances:
Driver: 290
3 Wood: 250
7 Wood: 230
4 Iron: 220
5 Iron: 205
6 Iron:195
7 Iron: 180
8 Iron: 165
9 Iron: 150
Pitching Wedge: 140
52* Wedge: 125
56* Wedge: 115
60* Wedge: 100
Tournament Low Scores:
65 (-6)
Team Events Results:
2nd at 2022 ASAA High School Golf Provincials
Stats:
My handicap is currently +1.3
2023 MJT scoring avg of 75.52
65 (-6) low tournament score
Several tournament rounds in the 60's
2022 Tournament Results
Date
Tour
Event/Venue
City
Set-Up/Results
Apr 30-May 1
MJT
Paradise Canyon

Lethbridge, AB
Juvenile boys

Par 71  6400  133/71.2

79,79  158  T13

May 14-15
MJT

River Bend GC

Red Deer, AB

Juvenile boys

Par 72  6308  121/69.7

77,75  152  T7

May 20
Alberta PGA
Junior Masters

Wolf Creek-Old Course

Ponoka, AB
U16 boys

Par 71  6572  132/70.6

82 T6

May 22-23
MJT
Banff GC

Banff, AB
Juvenile boys

Par 71  6573  128/70.6

75,82  157  12th

June 2-4
Golf Canada
NextGen

Western Championship

Pine Hills GC

Rocky Mountain House, AB
Junior boys

Par 72  6546  128/71.3

84,82,81  247  50th

June 18-19
MJT
Stony Plain GC

Stony Plain, AB
Juvenile Boys

Par 72 6473  131/72.3

80,83  163  T8

June 27-28

MJT

Olds GC

Olds, AB

Juvenile Boys

Par 72  6519  132/71.2

73,73  146 2nd

July 4-6
MJT
McKenzie Meadows GC

Calgary, AB
Juvenile Boys

Par 72  6605  132/72.2

72,75,78  225 10th

July 7
McLennan Ross
Barrhead Golf Club
Barrhead, AB
U15 Boys

Par 72  6065  126/69.6

73 1st

July 12-14
Alberta Golf
U19 Championship

Cougar Creek

Carvel, AB
U19 Boys

Par 72  6556  135/71.6

76,74,82  232, T34

July 17-18
Edmonton Golf Association
Junior Championship

Glendale GCC

Edmonton, AB
U17 Boys

Par 72   6626 133/72.0

74,76  150  1st

July 21
McLennan Ross
Lacombe Golf Club
Lacombe, AB
U15 Boys

Par 71  5957  121/67.7

70 (-1)  1st

July 26-27
MJT
Copper Point GC
Invermere, BC
Juvenile Boys

Par 71  6612  123/70.5

76,75  151

Aug 15-17
MJT
Coyote Creek GC
Sundre, AB
Juvenile Boys

Par 71  6662  122/71.3

72,76,72  220  7th

Aug 22-23
Alberta Golf
U15 Championship

Alberta Springs

Red Deer, AB
U15 Boys

Par 72  5906  120/69.0

71, 67 138 (-6) 1st

Aug 29
McLennan Ross
Tour Championship

Wolf Creek Golf Resort

Ponoka, AB
U15 Boys

Par 70  126/73.9

76 3rd

Sept 20
Alberta Schools Athletic Association
Metro Edmonton High School Athletics Zones

The Links at Spruce Grove

Spruce Grove
Boys

Par 72  6078  123/68.6

75 T3

Team 1st

Sept 23-25
Golf Canada
NextGen

Fall Series West

Golden Golf Club

Golden, BC
Boys

Par 72  6667

91, 82, 85 258

54

Sept 26-27
Alberta Schools Athletic Association
Provincial Championships

Highwood Golf Club and Turner Valley Golf Club

High River, AB

and Black Diamond, AB

Boys

Par 71/72

72, 72 144 (+1) T6

Team 2nd

Day 1: 6290 blue/white

Day 2: 6336 blue/silver

Nov 10-13
MJT
National Championship

Orange County National Golf Center

Winter Garden, FL
Juvenile Boys

Par 72 6748 134/73.0

83,83

T20